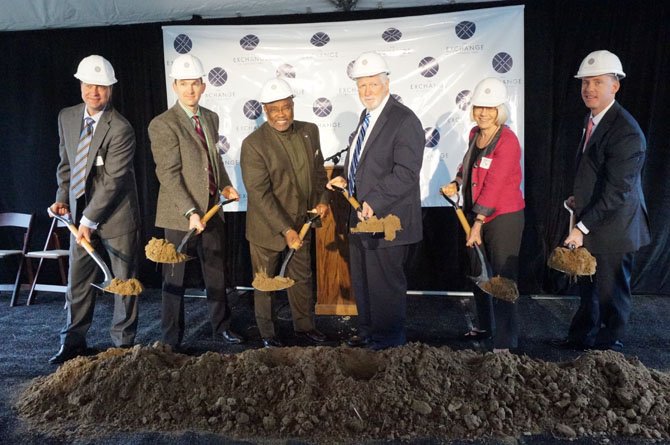 Officials gather for a ceremonial groundbreaking of The Exchange at Potomac Yard Oct. 9, a mixed-use development project along the Route 1 corridor in Alexandria. From left are: Frederic Rothmeijer, a principle with MidAtlantic Realty Partners; Andy Van Horn, vice president of the JBG Companies; Alexandria Mayor Bill Euille; U.S. Rep. Jim Moran; Alexandria Director of Planning and Zoning Faroll Hamer; and JBG managing partner Matt Kelly.

Stories this photo appears in:

Construction moves forward at The Exchange at Potomac Yard.
Mayor Bill Euille and U.S. Rep. Jim Moran (D-8) joined City of Alexandria officials as the JBG Companies and MidAtlantic Realty Partners held a ceremonial groundbreaking Oct. 9 to officially launch The Exchange at Potomac Yard, a mixed-use development along the Route 1 corridor in Alexandria and Arlington. "Unlike the folks on Capitol Hill, we are moving ahead and keeping people working," said JGB managing partner Matt Kelly, referring to the federal government shutdown. The first phase of the 19-acre development will include two multi-family communities with a combined 65,000 square feet of retail and nearly 400,000 square feet of office space. The Alric, with 323 residential units, broke ground last February with occupancy expected in September of 2014. "This project is about a future generation of Alexandrians and Northern Virginians," said Moran, who also made a reference to the lack of productivity on Capitol Hill. "This will be part of a new community where residents can live, work and shop without having to deal with extended traffic interruptions."