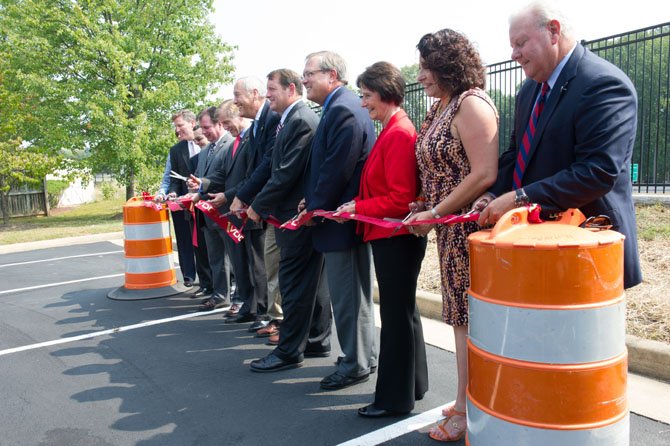 Cutting the ribbon on the Fair Lakes/Fairfax County parkways interchange are (from left) VDOT Northern Virginia District Administrator Helen Cuervo; Virginia Secretary of Transportation Sean Connaughton, President/CEO of Shirley Contracting Michael Post, Del. Tim Hugo, Gov. Bob McDonnell, State Sen. Dave Marsden, Supervisor Pat Herrity, Del. Jim LeMunyon, Board of Supervisors Chairman Sharon Bulova and Commonwealth Transportation Board members Fran Fisher and Gary Garzynski.
Stories this photo appears in:

End of the road for parkway interchange project.
It's been a long time coming, but the Fair Lakes interchange is just about done. And last Thursday, Sept. 12, Virginia Gov. Bob McDonnell joined local officials here to cut the ribbon on a project improving travel for drivers on the Fair Lakes and Fairfax County parkways, plus Monument Drive. "It's great to celebrate these achievements," he said. "The Fairfax County Parkway has been a lifeline of this county for so long. This was a marvelous story of VDOT and our private-sector construction teams working together, and it will benefit this county for a long time."