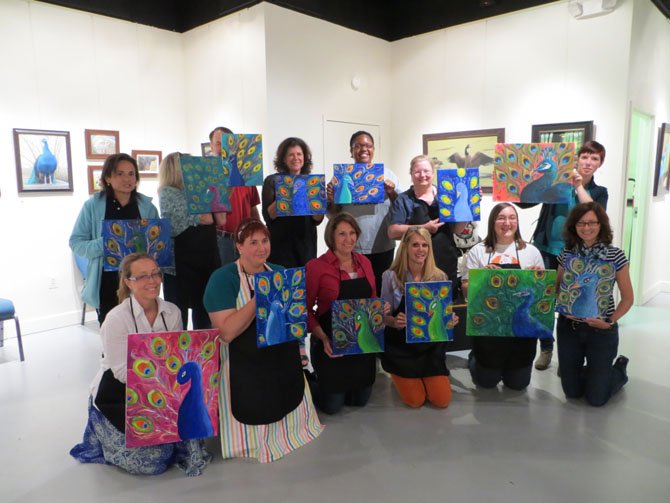 Participants in the Design and Wine class with Mary Sears hold their finished paintings.

Stories this photo appears in:

ArtSpace Herndon hosts 5th annual Paint Herndon.
"Over 325 people attended the ArtSpace Herndon annual Paint Herndon," said Robin Carroll. A former director of ArtSpace Herndon, Carroll helped organize this year's Paint Herndon event, an annual birthday of the ArtSpace Herndon. Held this year on Saturday, Sept. 21, all scheduled activities went on as planned as rain held off until the reception and award ceremony. The cornerstone of the event is the painting competition, which is designed in the spirit of a "day painting" competition and challenges artists to create works of art in a short period of time. "The art was amazing," said Emmanuelle Marie Carnogursky. A resident of Herndon, Carnogursky also participated in the painting competition, submitting three finished oil paintings. "I have been painting with oil since the age of 14 … I got right to painting as soon as I had my canvas stamped, it was a lot of fun." Two other big activities at the ArtSpace Herndon event were the VW "Doodle Bug" and the animals available for adoption from Lost Dog and Cat Rescue Foundation. The Doodle Bug, a Volkswagen Beetle wrapped in white vinyl to enable a dry-erase canvas, was on display at ArtSpace Herndon for guests to demonstrate their artistic talent on the car. Volkswagen of America has an office in Herndon, and staff from their office drove the vehicle to ArtSpace Herndon.