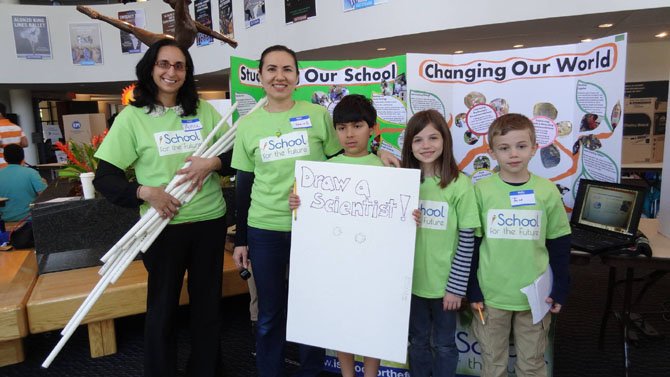 iSchool team - Anu Gupta, Nuria Gabitova, Rohan Alemblaseril, Natalie Hoffman and Ian Hoffman.
Stories this photo appears in:

Programs involve Forestville Elementary, Great Falls Library.
iSchool for the Future demonstrated its unique STEAM SELTM approach to science education during Thursday's 2014 Annual School Environmental Action Showcase, generating interest from students and politicians alike. The 2014 Annual School Environmental Action Showcase is sponsored by NoVA Outside and George Mason University and brings together schools, students, and environmental organizations from Northern Virginia to share ideas and share eco-projects. The event, held on Thursday, April 10 on the GMU campus, had over 44 schools and 520 students in 52 teams participating. Over 30 partner organizations were invited to lead hands-on science activities for students.