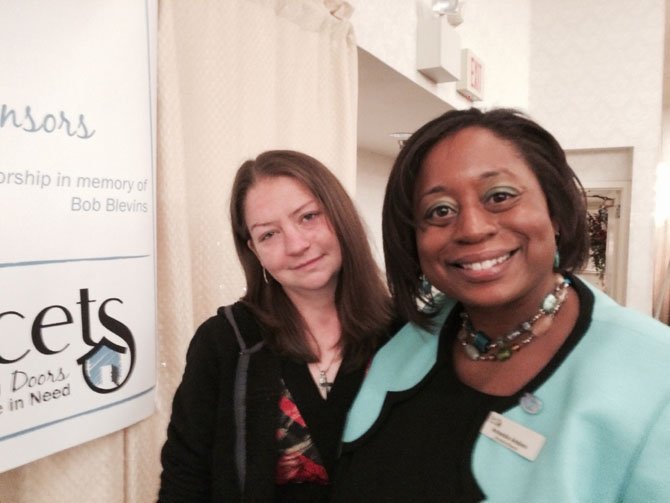 After being homeless for five years, Sandara Perry, left, recently moved into permanent housing with ongoing support provided by FACETS. Perry grew up on Route 1 in Mount Vernon, and was placed in foster care while her mother struggled with addiction. Without support to make the transition from foster care, Perry struggled with alcohol and abusive relationships. She shared her story at the FACETS annual breakfast last Thursday, April 24, and she is pictured here with FACETS Executive Director Amanda Andere.
Stories this photo appears in:

Previously homeless individuals share stories at FACETS Opening Doors Breakfast.
FACETS clients Carol Brown and Sandara Perry, sharing their stories to a crowd gathered at the FACETS Opening Doors breakfast on April 24, confirmed the unfortunate fact that homelessness and poverty do exist in Fairfax County.

Commitment to ending homelessness shows progress, but more affordable housing is needed.
On one night in late January, local jurisdictions in our area fanned out to count the number of people who were literally homeless. Fairfax County released its numbers last week; Arlington and Alexandria will do so in the near future. In Fairfax County, the commitment in 2010 to end homelessness in 10 years has resulted in significant progress, even in the wake of the great recession. The number of people literally homeless decreased by a third from 2008 to 2014, from 1,835 to 1,225 counted this year. Many non-profit organizations have partnered to prevent homelessness one family or individual at a time for those on the brink and to house chronically homeless individuals. There is so much still to be done.