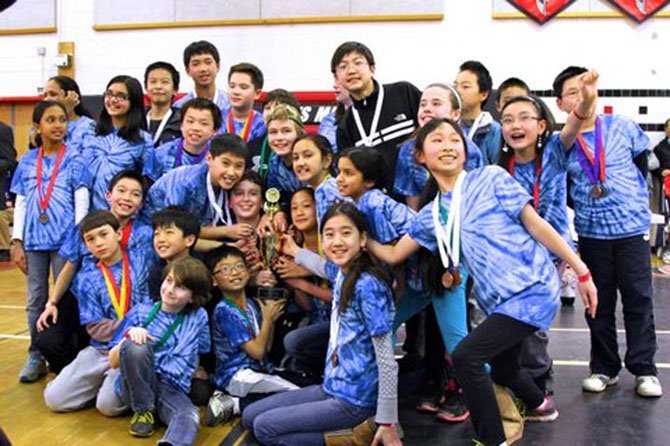 Churchill Road Science Olympiad team members, from left: Rupa Siva, Mrs. Rajee Ramesh (obscured), Brian Wang, Daniel Wen, Brandon Torng, Ethan Schoenberg, Dylan Tschampel (obscured), Ms. Jen Ezzell (obscured), Samuel Kim, Anna Krause-Steinrauf, Ethan Li, Alex Zhang (obscured), Cynthia Wang and William Wang. Clockwise from center around trophy: Ethan hsaio, Daniel Kalish, Eric Kim, Nolan Ward, Ryker Bendewald, Victor Bo, Ian Palk, Katie Jeong, Austin Young, Ladan Haiderbaigi, Sahana Ramesh, Ashley Xing, and Yujin Kim.

Stories this photo appears in:

The Churchill Road Elementary School Science Olympiad team turned in a fabulous performance at the Virginia Science Olympiad Regional Tournament on Saturday, March 1, at Madison High School in Vienna. Competing against 20 other teams from area elementary and middle schools, Churchill Road's team won First Place. The school's fifth and sixth graders competed against other fifth and sixth graders, as well as seventh and eighth graders, in science topics that included Life Science, Physics, Chemistry, Earth Science, Technology and Inquiry and Nature of Science. CRS students placed in the top five in 14 events, and they placed in the top 10 in most other events.