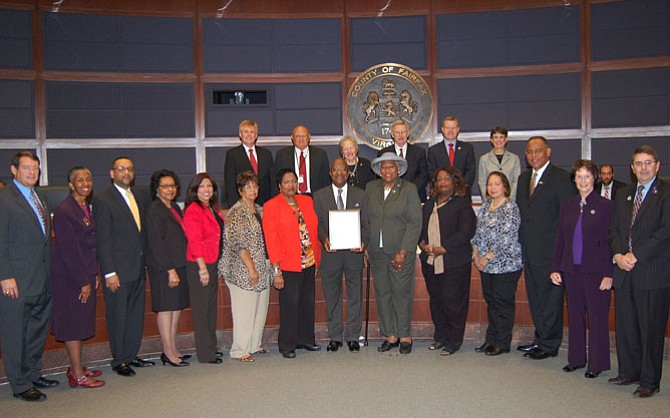 The Fairfax County Board of Supervisors on Oct. 28 recognized the Chantilly Pyramid Minority Student Achievement Committee for its 30th anniversary. A resolution acknowledged CMPSAC's decades of encouraging students to maintain high levels of academic achievement. Front row, from left are Supervisors Pat Herrity and Cathy Hudgins, Troy Carpenter, Rosalind Blunt, Addy Mau, Louise Ford, Barbara Tyler, Johnny Nelson, Mary Nelson, Audrey Dutton, Josie Wolfer, Chuck Coffin, Board Chairman Sharon Bulova and Supervisor Michael Frey. (Back row, from left) are Supervisors John Cook, Gerry Hyland, Penelope Gross, John Foust, Jeff McKay and Lynda Smyth.

Stories this photo appears in:

CPMSAC celebrates its 30th anniversary.
The Chantilly Pyramid Minority Student Achievement Committee (CPMSAC) has come a long way in 30 years — and there's more work to be done. But Sunday night, it took time out to celebrate three decades of dedication to area youth.