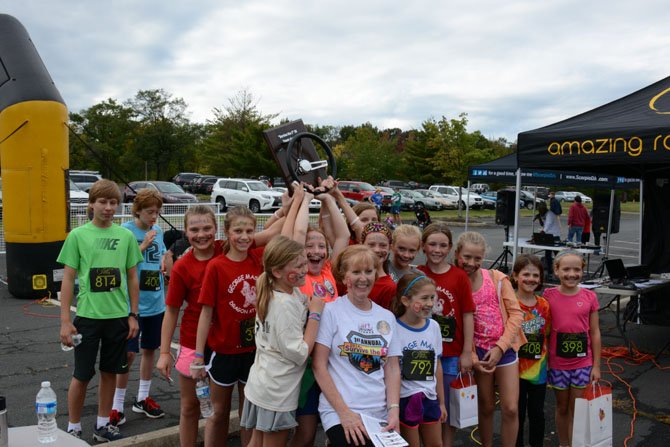 Students and teachers from George Mason Elementary School won the award for team participation at the Survive the 5 5K. The girls, all fifth graders, also sang the national anthem to kick off the event. (From left, top) Ben Wilson, Luke Randall, Rachel Wilson, Catherine Onorato, Lauren Roberts, Ella Burkhead, Lila Randall, Anna Harrington, Maura Munson, Flora Izar-Thompson, Sophia Ware, Cassidy Pyke, (from left, front) Nolan Dawson, Robin Thompson and Selena Izar-Thompson.

Stories this photo appears in:

First annual 5K raises awareness of teen driving safety.
Robin Wallin of Alexandria has been training for this day at Cameron Run Regional Park for three months. She and sister-in-law Carolyn Wiser of Baltimore used a seat-to-5K app on their smartphones to prepare for the Oct. 4 race, encouraging each other through Facebook messaging.