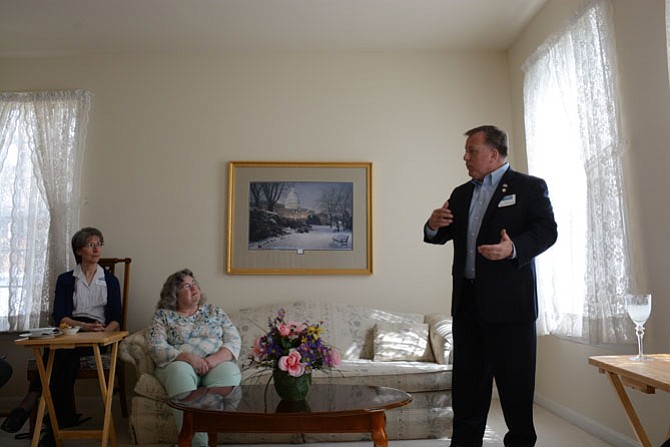 Beth Schaefer, a resident of the Franconia area of Alexandria, and Susan Valentine of the Kingstowne area of Alexandria, listen as Virginia Senate candidate and Dumfries Mayor Jerry Foreman outlined some of his campaign objectives. A meet and greet event took place in Valentine's home.
Stories this photo appears in:

"I've found him to be very effective, with solid values to cut taxes and improve the environment for business. I think he's done that for the most part."

GOP candidate spends day seeing the 36th top to bottom.
By 2:30 p.m. on April 2, Dumfries Mayor Jerry Foreman had already attended meet-and-greets in Stafford, Quantico and Montclair. His fourth stop was the home of Susan Valentine in the Kingstowne area of Alexandria. A fifth event, an ice cream social called "Get the Scoop on Jerry," awaited him at the finish line in Dumfries.