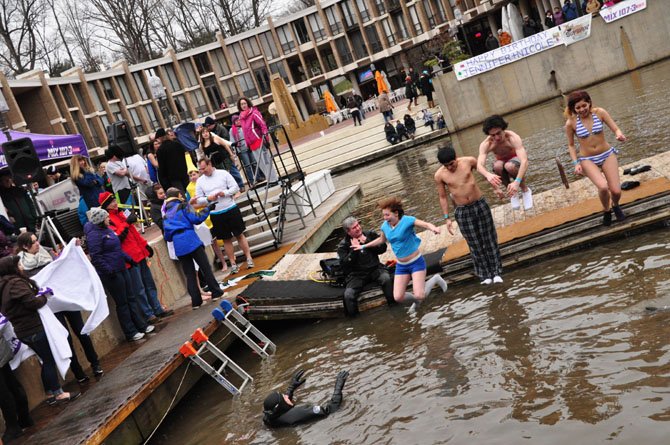 Onlookers watch jumpers hit the 35-degree waters of Lake Anne Saturday, Feb. 2, 2013, part of the annual fundraiser for Camp Sunshine.

Stories this photo appears in:

Hundreds of men, women, and children dress up in crazy costumes and converge at Lake Anne every February for the Annual Freezin' for a Reason Virginia Polar Dip. The event, in its eighth year, will take place on Saturday, Feb. 7 in the heart of Reston in the bone-chilling waters at Lake Anne Plaza. This mid-winter tradition event will kick off at noon with family friendly activities and warm-up - with the Dip scheduled to take place starting at 2 p.m. Each year the event draws record crowds of both spectators and jumpers raising over $85,000.

Try these fun ideas for food, fun and entertainment around Reston during the colder months.
Just because it's cold out doesn't mean resident have to stay indoors. Reston has much to offer for families during February and March, with everything from plays, musical performances and art workshops to new restaurants and wine tastings at Reston Town Center. Here are some ideas to get started: