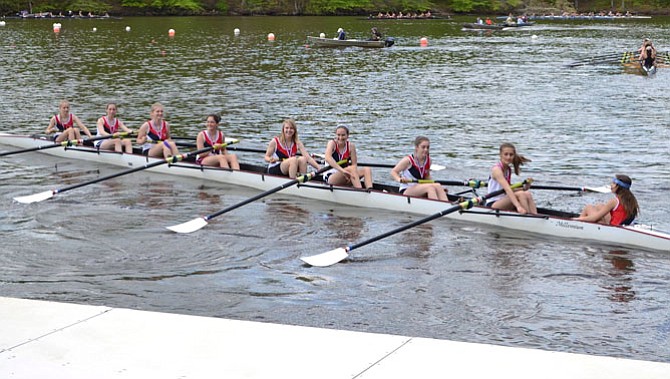 The T.C. girls' novice 8 row away from the medal dock with the silver medal. Members include coxswain Paula Filios, Chloe Marsh, Anna Jane Guynn, Elspeth Collard, Blythe Markel, Charlotte Milone, Marley Osborne, Madeline Kasoff, and Sophie Rust. Their coaches are Cathy Hott and Chris Ottie.

Stories this photo appears in:
Titan rowers bring home three silver medals, bronze.
On May 2, the T.C. Williams boys' freshman 8 captured a gold medal, winning the Virginia Championship Regatta for Lower Boats and claiming the Ted Phoenix trophy that is presented annually to the Commonwealth's fastest freshman boys' boat. Four other Titan boats also medaled, with three silvers and a bronze. The state competition took place at Sandy Run Park on the Occoquan Reservoir in Fairfax.