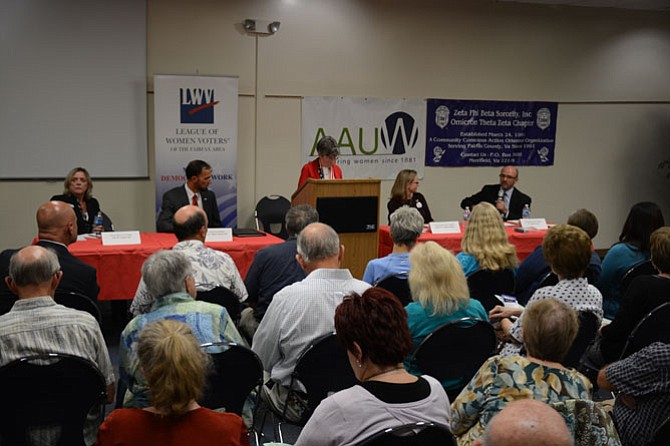 From left: Candidates for Mount Vernon District supervisor Jane Gandee (R), Dan Storck (D) and for Fairfax County School Board Mount Vernon representative Karen Corbett Sanders and W. Anthony Stacy participated in a question-answer session hosted by the League of Women Voters.

Stories this photo appears in:
Christine Morin of Lorton remembers when South County Secondary School opened in 2005. She found out Fairfax County said they had no plans to build a South County middle school, as the system had previously promised, which was a reason Morin and her family moved to Laurel Hill from Burke.
Without an incumbent running for Mount Vernon District supervisor, the candidates meet and greet event at the Sherwood Regional Library was understandably crowded. Republican Jane Gandee is running against Democratic primary winner Dan Storck to replace longtime supervisor Gerry Hyland (D-Mount Vernon), who announced he would not seek re-election last year.