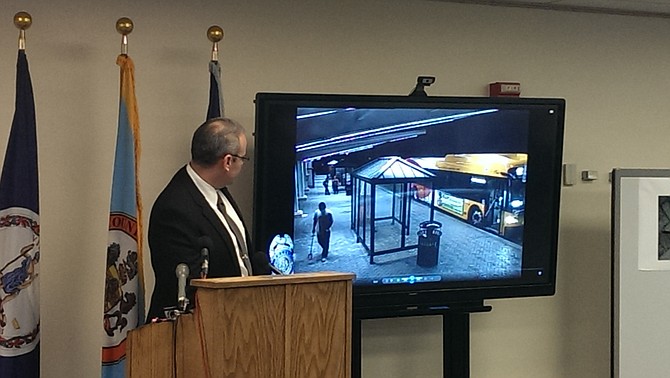 Left, David Smith, commander of Fairfax County Police Department major crimes division, breaks down the security camera footage of events leading up to and following Yovani Amaya Gomez (pictured on screen holding a sign post he used to attack a security guard and Sheriff's deputy) being shot by Master Deputy Sheriff Patrick McPartlin.
Stories this photo appears in:

Commonwealth's Attorney: homicide was justified self-defense.
In a decision released Dec. 16, Commonwealth's Attorney Ray Morrogh cleared Fairfax County Master Deputy Sheriff Patrick McPartlin of any criminal wrongdoing in the fatal shooting of Yovani Amaya Gomez that took place Aug. 15 outside Inova Fairfax Hospital.