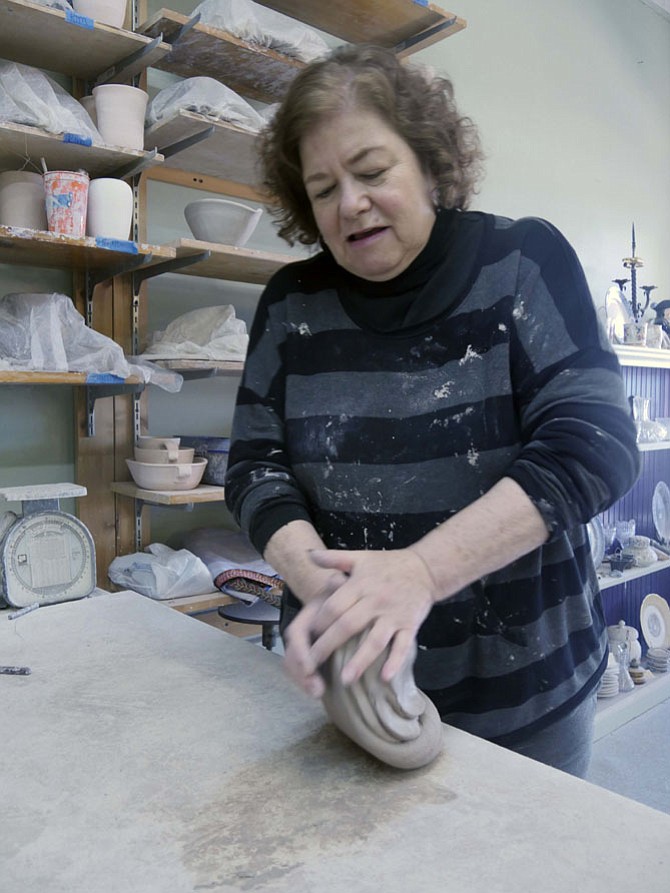 Renee Altman, potter and owner of The Clay Queen Pottery on Mount Vernon, focuses on the upcoming Halloween Season by creating a pumpkin. Altman wedges off a hunk of clay, kneads it 100 times "like bread dough." Then onto a bat placed on the potting wheel where Altman's hands gradually form the clay into a cylinder, thinning the sides and pressing the clay out into a pumpkin. She will etch a leaf pattern and lobes around the pumpkin. It will be fired in an electric kiln, glazed and fired again for 12 hours in a gas kiln where the temperature will reach 2300 degrees.
Stories this photo appears in:
Renee Altman wedges off a large chunk of high-fired stoneware clay and puts it on the workbench. "It's like kneading dough. I usually do this 100 times." Altman owns The Clay Queen Pottery on Mt. Vernon Avenue.