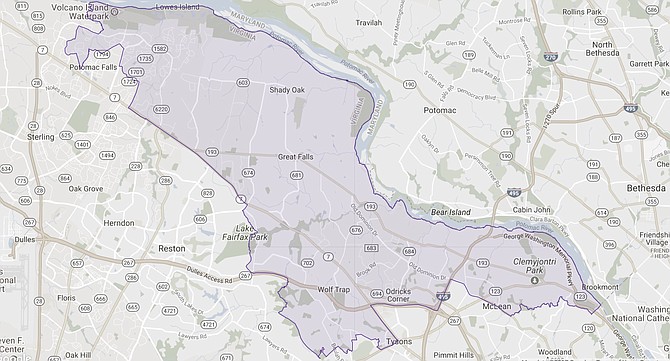 The 34th House District stretches from Fort Marcy through Langley and Great Falls into the eastern edge of Loudoun County. (map from the Virginia Public Access Project)
Stories this photo appears in:

Solid blue urban areas separated by political beltway from solid red exurbs.
Northern Virginia has more competitive seats than any other part of the commonwealth, a ring of districts that forms a beltway of sorts separating the inner solid blue in Arlington and Alexandria from the solid red in rural and exurban seats in Loudoun and Prince William. That puts Fairfax County squarely in the driver's seat this November, when Democrats hope to pick up seats in an election that has balanced local issues like schools and roads with the ongoing reaction to President Donald Trump.

House District 34 has swung to the left, the right and back again.
Northern Virginia's wealthiest suburbs are also some of its most hotly contested battleground precincts, the House of Delegates district surrounding Great Falls that's swung left and right and left again in recent years. What once was the home of legendary Republican Vince Callahan has become kind of jump ball after he announced his retirement a decade ago.