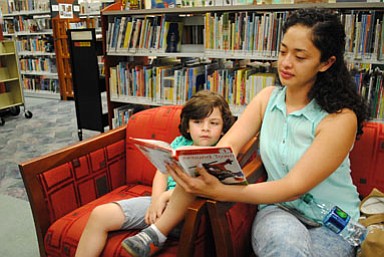 "It's good for kids to come and read the books here because they are on their iPads and televisions a lot at home. I like him to come here to interact with the other kids," said Leydia Reyes, Alexandria resident and nanny of four-year-old Constantino. "We always find what we are looking for here. As long as it's about dinosaurs, he's happy."

Stories this photo appears in:

Once the set number of books is read, the children and teens are given a coupon book as the prize.
The Fairfax County Summer Reading Adventure has kicked off again this year and the Great Falls public library is joining in to give children the chance to turn summer reading into fun prizes.