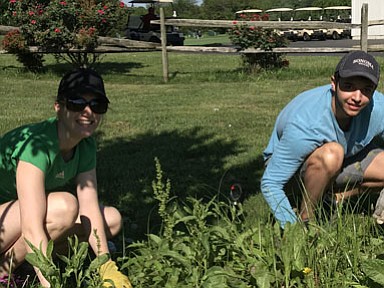 Hannah Steer and Sam Rosenthal, staff members at Johnson Lambert, a CPA and Consultant firm in the Town of Vienna provide community service pulling weeds in a Monarch WayStation in Herndon.

Stories this photo appears in:

The Town Forester promotes community forestry.
The town earned designation as a "Tree City USA" by the National Arbor Day Foundation and is home to eleven neighborhood parks. However, within those 4.3 square miles are not only parks with new trees and plantings which require endless health and welfare checks but town properties, such as those on the Town Hall Square and at the Centennial Golf Course which require endless oversight, endless weeding, and removal of dead plants and shrubs.