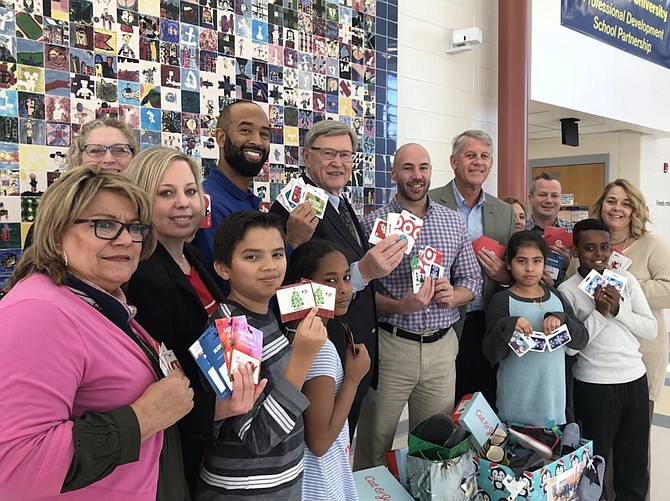 From left, Maria Michlik, parent liaison; Asman Khanal, 10; Aseel Hamza, 9; Lesley Avila Lopez, 9; Abem Teshale, 9; Jenny Phipps, legislative aide for Supervisor Foust; Katie Aldridge and Steven Wilson, Assistant Principals, Hutchison E. S.; Supervisor John W. Foust (D-Dranesville); Ray Lonnett, Principal of Hutchison E. S.; Mike O'Reilly, Chairman of the Board Arts Herndon; Anna Schoenfeld, Director Exhibits, Arts Herndon; Jason DiMambro, Director Outreach Arts Herndon; and Renee Gorman, School Counselor Hutchison E.S.; display donations from Supervisor John W. Foust's annual holiday shoe drive to benefit students in need at Hutchison E.S. in Herndon.
Stories this photo appears in:

Supervisor John W. Foust brings the community together to show kindness and generosity.
.