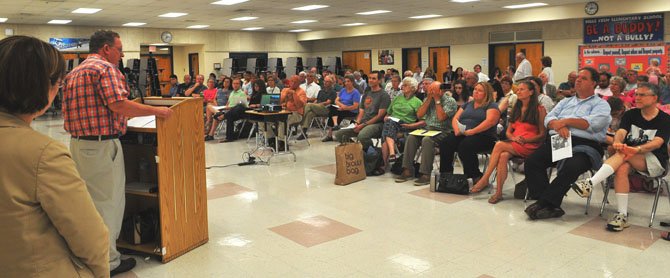 Approximately 150 Mount Vernon residents filled the cafeteria at Belle View Elementary School on Monday evening, July 30, for the Westgrove Park Master Plan public information meeting. Linwood Gorham, Mount Vernon representative on the Fairfax County Park Authority addresses the gathering. Standing to the right of Gorham is Sandy Stallman, Fairfax County park planning manager.
Stories this photo appears in:

Two-year interim use approved as master plan moves forward.
After a protracted community debate over the past two years on whether or not to establish an Off Leash Dog Park (OLDA) within Westgrove Park, the Fairfax County Park Authority, with the concurrence of the Planning Commission, recently approved an Interim Use OLDA at Westgrove Park for two years.