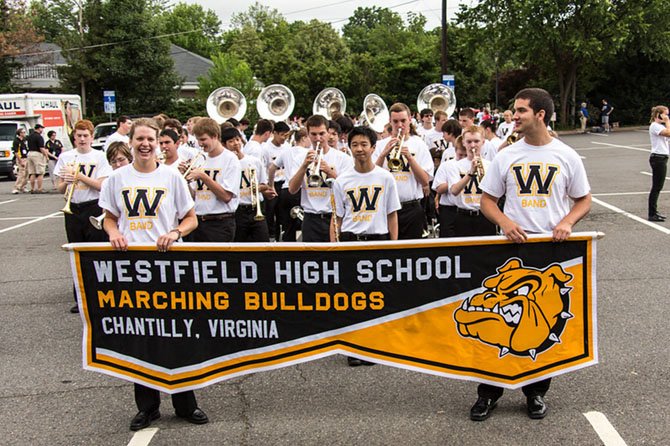 Morgan Tweddle (left) and Andrew Banick lead Westfield High's Marching Band at the City of Fairfax Fourth of July Parade.
Stories this photo appears in:

Tournament of Roses president speaks to students
Sure, the students in Westfield High's marching band are enjoying their summer. They're also busy learning new music and practicing their drills. Besides marching on the Bulldog football field come fall, they'll be participating Jan. 1 in the Tournament of Roses Parade. And before school ended, Parade President R. Scott Jenkins came here to officially extend the invitation to Westfield's band. During the band's awards banquet at the Westfields Marriott, he gave each member an autographed "Dreams Come True" poster. In return, the band performed a concert for him at GMU's Center for the Arts. First, though, Jenkins came to the school to meet the students and tell them a bit about the parade. He discussed its history, gave them specifics about what to expect and told them how happy he is that they'll be participating.