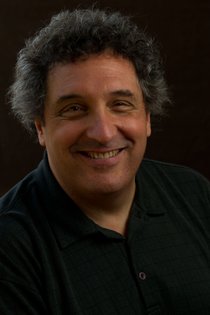 I've been working as an advertising representative for Connection Newspapers since February 1997. I responded to an ad in the newspaper, of course. The edition for which I am primarily responsible is the Potomac Almanac, although I can place ads in any of our other 14 newspapers. In addition, I have written a weekly, award-winning, column going on nearly 14 years, as of December 2011.
"Thoughtful humor and insightful commentary" and "Everything in general about nothing in particular" are two characterizations with which I am most comfortable.
Born in Brookline, Mass., I remain a loyal Boston sports fan, committed (or rather should be) and loyal member of Red Sox Nation. To set foot on the hallowed grounds of Fenway Park would be an experience I'd spend the rest of my life cherishing. I remember exactly where I was when Carlton Fisk hit his game-winning home run in game six of the 1975 World Series.

Recent Stories
I don't mean to be the least bit paranoid, but I suppose that's because, as a stage IV non-small cell lung cancer "diagnosee," I'm already the most bit paranoid. A terminal diagnosis of incurable cancer has a way of doing that to you (at least to me it has). Not to blame cancer totally for my behavior, but can you think of a more deserving and appropriate cause of this effect than the "leading cancer killer in both men and women in the United States." In fact, according to the American Lung Association, "Lung cancer causes more deaths than the next three most common cancers combined (colon, breast and prostate)."
Not that there's anything wrong with that; in fact, as a four-year, stage IV, non-small-cell lung cancer survivor, it's amazing to have any security, false or otherwise, whatsoever.
I think about it enough, I don't want to think about it too much. What's "it?" Cancer.
That is the percentage of diagnosed lung cancer patients who survive beyond five years, according to The National Cancer Institute's SEER Cancer Statistics Review, 1975-2009, in a graph published in the Feb. 26, 2013 Washington Post's weekly Health & Science section. As a non-small cell lung cancer (NSCLC) survivor beginning his fifth year post-diagnosis, charting my prospects in such a cold and impersonal manner is both chilling and arguable. "Chilling" in that facts speak for themselves and are hardly made up of whole cloth, to invoke one of the late Jack Kent Cooke's more famous quotes. And "arguable" in that charts, statistics, etc., may very well measure the mean, but it sure doesn't measure the man (this man, anyway). Meaning, from my perspective: sure, the chart is scary as hell, but I'm not sure I'm on it, if you know what I mean? (I know you know what I hope.)
Having never attended medical school (and not really having had the grades or commitment to do so), and having only completed 10th grade biology and freshman year astronomy, and rarely even driven by a medical school growing up, my understanding and/or instincts regarding how a medical professional plans and/or prepares for his day is as foreign to me as sugar-free chocolate (if I'm going down, I'm going down swinging; in truth however, considering the anti-cancer, alkaline diet I'm following, I do need to swing a little less frequently).
As far as anniversaries go–and I hope this one "goes" a lot further; acknowledging, dare I say celebrating my four-year survival anniversary from "terminal" stage IV (inoperable, metastasized) non-small cell lung cancer, a diagnosis I initially received on Feb. 27, 2009, along with a "13-month to two-year prognosis" from my oncologist, is certainly column-worthy.
My oncologist is a man. He has e-mail. He works for an HMO that encourages/advertises its connectivity and responsiveness – electronically, to its members. If I want to get medical answers in a reasonable amount of time – save for an emergency, typing, "mousing" and clicking is the recommended methodology. No more phone calls, preferably. Though pressing keys on a keyboard rather than pressing buttons on a phone might have felt counter-intuitive at first as a means of receiving prompt replies, it has proven over these past few years to be a fairly reliable and predictable information loop. Not in minutes necessarily, but more often than not during the same day – and almost always by the very next day. In fact, I've received e-mails from my oncologist as late as 9:18 p.m. (time-stamped) after a sometime-during-the-day e-mail had been sent.
That is my question. And though I can't quite quote Shakespeare the way I can quote The Three Stooges: "Moe, Larry, the cheese. Moe, Larry, the cheese," "'tis nobler" to ask it nonetheless. Still, if Hamlet had been diagnosed with a terminal form of cancer, as I have, perhaps he wouldn't have been contemplating suicide but rather allocating his monthly budget – as I do every day, with nearly every purchase. That's my dream, "perchance" or otherwise.
Figuratively speaking, of course. That definition being: a late stage cancer patient/survivor previously characterized as "terminal" awaiting the results of their most recent diagnostic scan. A scan that will indicate whether the tumors have grown, moved or God forbid, appeared somewhere new. If your life hung in the balance before the scan, waiting for results of this however-many-months-interval-scan will most assuredly loosen your figurative grip on your equilibrium and your most literal grip on your sanity. This is a domain, unlike the one referred to in one of the more infamous Seinfeld episodes, that one cannot master. To invoke and slightly rework Dan Patrick's "catch" phrase: You can't stop it, you can only hope to contain it.