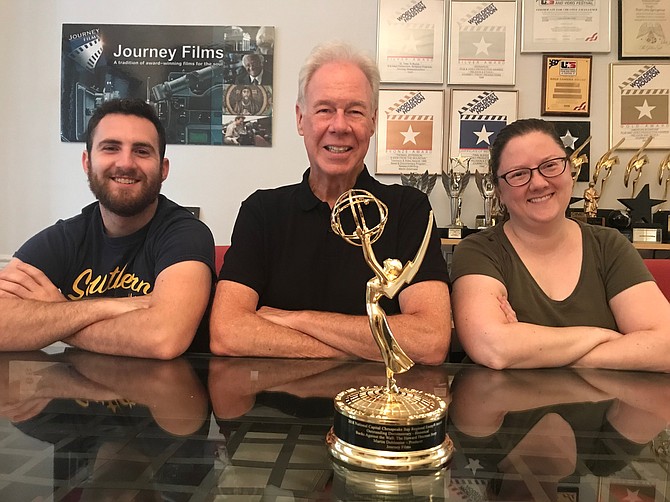 Once a year, the National Academy of Television Arts and Sciences honors the best of the small screen with highly-coveted Emmys. And while most every actor, director, and producer dreams of winning one of these awards, it is an honor bestowed upon very few.
"And the Emmy goes to…"
Martin Doblmeier, the owner and president of Alexandria-based production company Journey Films, knows what it's like for your name to follow. On Tuesday, June 25, Doblmeier won the regional Emmy Award for Best Historical Documentary Film for a film he produced earlier this year: Backs Against the Wall: The Howard Thurman Story. This award-winning documentary chronicles the life of Civil Rights-era theologian Howard Thurman – an important spiritual mentor to Martin Luther King Jr.
Doblmeier and the rest of his Journey Films team knew they had an award-worthy subject on their hands with Backs Against the Wall. Still, they were humbled by the accolade – a confirmation of sorts that they had successfully captured Thurman's story.
"It is difficult to put in words what winning an Emmy means for everyone," Doblmeier said. "Filmmaking by its very nature requires a lot of time spent quietly in dark rooms making hundreds of creative decisions you hope will connect to the audience. It is an art form so there is no right or wrong answer. You must hope the way you see your subject will be shared by others. And an Emmy helps to validate all the hundreds of hours everyone has worked on this film."
The National Capital Chesapeake Bay Chapter of the National Academy of Television Arts and Sciences is the entity responsible for reviewing and recognizing the remarkable works of television art that come from Maryland, Virginia, and the District of Columbia. This year marked the chapter's 61st year of awarding Emmys.
As producer, Doblmeier was a two-time Capital Emmy winner before accepting the honor for Backs Against the Wall. And although each of his films take viewers on a different journey, they all leave viewers feeling inspired – and hopefully, more in touch with their hearts and souls.
"All of our films focus on topics around religion, faith, and spirituality," Doblmeier said. "The news around religion these days is often negative. Yet, with Backs Against the Wall, here is a story about a man whose religious convictions and spiritual explorations had a profound and positive impact that still reverberates today. I think that is worth celebrating."
This year, Backs Against the Wall was up against three other strong contenders for the historical documentary category – including Washington in the '90s, produced by WETA-TV, a Washington DC member television station of the Public Broadcasting Service.
"You can never expect to win at this level," Doblmeier. "There are always so many other good films and filmmakers out there that you can't take anything for granted. Still, we felt we had a strong submission, so we just hoped for the best."
Like Washington in the '90s, all of Journey Films's documentaries play on public television. Since 2011, Journey Films has partnered with Maryland Public Television (MPT), making it possible to widely spread important messages through film.
"The work of Journey Films has always focused on stories that address profound theological content and presents that content with the sophistication and intelligence that funders and audiences have come to expect," Kate Pearson, MPT's Managing Director of Programming and Acquisitions, said. "We enjoy our partnership with Journey Films because of its track record of more than 25 award-winning films focused on religion, faith, and spirituality. The subjects of the films as well as those interviewed in these documentaries are extraordinary men and women who are passionate about their ideas. Public television viewers are drawn to these biographies."
This partnership with MPT is integral to Journey Films being able to bring important new perspectives to people all over the country.
"One of the things I am most proud of is that our work allows us to bring before a wide national television audience stories that may otherwise go untold," Doblmeier said. "Howard Thurman was a remarkable character who had a significant impact on the political and social fabric of our country. Yet many people know little or nothing about his life and contribution. Now, through the film, hopefully millions will come to discover the value of his life."
Indeed Thurman's story is well on its way to affecting millions.
"Viewer response was terrific for the Howard Thurman documentary locally as well as nationally," Pearson said. "As the presenting station, MPT made sure that the film was released in time for Black History Month this past February. The sheer amount of public TV stations who aired it across the United States was a testament to the integrity of the film and, of course to Mr. Thurman and his huge impact on our culture. We could not have been prouder of Martin Doblmeier and his film already. Winning the Emmy Award was the icing on the cake. The point is that Journey Films' work is critically important."
Soon, audiences will be getting acquainted with another extraordinary Christian.
"We are in final edits with another biographical documentary in the series, this one on the great Catholic social radical, Dorothy Day," Doblmeier said. "She was a remarkable character who began the Catholic Worker Movement – a national newspaper and network of homes for the poor and destitute. She began both during the Great Depression and both are still in operation today."
Doblmeier's hopes are for the Dorothy Day documentary to air on PBS stations in March 2020 for Women's History Month.
Doblmeier and the Journey Films team aren't thinking about awards as they passionately execute their projects, though.
"Over the years, we have been honored with more than 30 awards for the films," Doblmeier said. "However, our goal is simply to continue to create the best films possible and hope people discover something of value in them."
To view any of Journey Films's productions, visit www.journeyfilms.com. Also, their films are available on DVD, for purchase on their site or on Amazon.com.