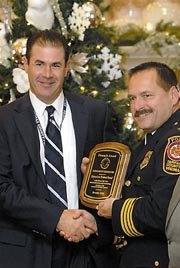 Fairfax County Police Chief Col. Dave Rohrer presents Detective Robert Bond with a Pinnacle Award at the Pinnacle Awards Christmas Luncheon on Dec. 11 in Fairfax. The annual awards program is sponsored by the Fairfax County Crime Solvers. Bond was honored for his work in the homicide unit.
Stories this photo appears in:
Crime Solvers luncheon recognizes work of Fairfax County Police detectives.
Pinnacle of Achievement