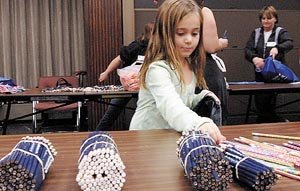 Rachel Dickman, 7, of Fairfax, volunteered with her mother and sister to pack backpacks for Volunteer Fairfax last week. The organization's annual 'A Celebration of Giving and Sharing' donates backpacks to 2,300 students at four county elementary schools.
Stories this photo appears in:
Volunteer Fairfax corrals locals to pack backpacks for elementary schools.
Pack 'Em Up, Move 'Em Out