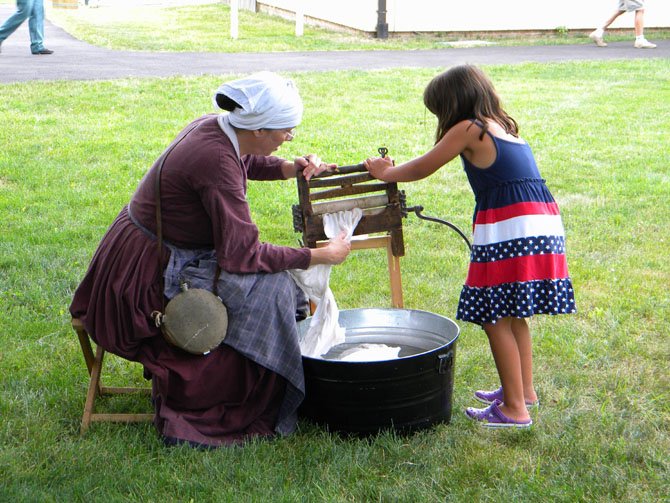 Civil War Fort Day at Fort Ward
Learn about soldier life in the Defenses of Washington when Fort Ward Museum & Historic Site presents "Civil War Fort Day" on Saturday, June 8. From 10 a.m.-4 p.m., a variety of living history interpreters will portray aspects of military and civilian life in the Washington area during the Civil War. A suggested donation of $2 per person and $5 for families is requested. The program is weather dependent.
Reenactors from several Union living history groups will set up camps, and demonstrate aspects of army life in the defense system such as drilling, firing demonstrations, camp cooking, medical care, leisure-time activities, and the role of civilians in Washington's camps and forts. The event will feature units such as the 3rd U.S. Regular Infantry, Co. H; Brady's Sharpshooters; the 1st U.S. Artillery (Fort Washington Guard); the 54th Massachusetts Volunteer Infantry; and the 23rdU.S. Colored Troops, a regiment that was raised at Camp Casey, a major recruiting and training base that was located in Arlington during the Civil War. A telegraph operator will interpret the importance of communication in the defense system, and a regimental clerk will be stationed in the fort's reconstructed Officers' Hut. Artillerymen will be on duty in the fort's fully restored bastion, and an ordnance sergeant will show examples of projectiles and equipment used by artillerymen of the period. Special soldier-led tours of the camps and fort will be offered at 11 a.m. and 2 p.m. Children can make their own corps badges to wear for the day.
Fort Ward is the best preserved of the extensive system of Union forts known as the Civil War Defenses of Washington. The Museum features exhibits and programs throughout the year. Visit www.fortward.org or call 703-746-4848.
Stories this photo appears in:

Ongoing Summer Classes. Art at the Center, 2804 Sherwood Hall Lane. Children ages 6-10 can participate. Register at www.artatthecenter.org or 703-201-1250. Art Exhibit. Through Sunday, May 26, Thursday, Friday and Sunday noon-4 p.m.; Saturday 1-4 p.m. at The Athenaeum, 201 Prince St. See works by Mary Margaret Pipkin. Free. Visit www.mmpipkin.com.