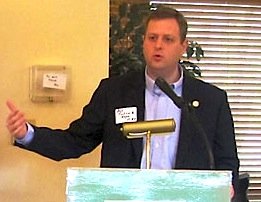 Del. Patrick Hope (D-47)
Stories this photo appears in:

Two Northern Virginia Democrats take part in panel to consider school security.
Do Virginia schools need more guns? That question is at the heart of a debate that's now reaching a fever pitch in the commonwealth, especially after a man with a Bushmaster assault rifle blasted his way into a Connecticut elementary school and killed 20 children and six adults before killing himself. Republican Gov. Bob McDonnell responded to the tragedy by creating a School Safety Task Force, which is considering a proposal for every school in Virginia to have an armed school resource officer.

Del. Patrick Hope (D-44) asks governor and General Assembly to form a task force.
The number of victims is unknown in Virginia's system of forced sterilization, a dark chapter that stretched from the 1920s into the 1970s.