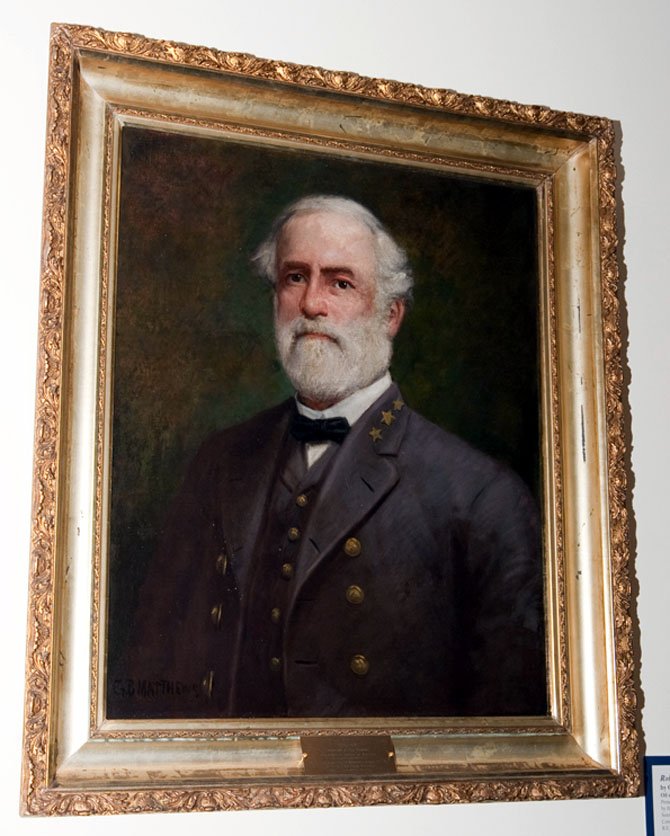 The portrait of General Robert E. Lee on display in the Alexandria City Hall City Council Chambers. The 100-year-old oil painting was painted by Virginia artist George Bagby Mathews (1857-1944) in the late 19th century. Although only 7 years old at the end of the Civil War, Mathews identified with the "Lost Cause" and concentrated on historical paintings and portraits of Confederate subjects.
Stories this photo appears in:
Ceremony At The Alexandria City Chamber
It is the portrait across the room from George Washington's painting in Alexandria's City Council Chambers. This handsome oil painting bears the likeness of Robert Edward Lee, a son of Virginia and that of Revolutionary War hero "Light-Horse Harry" Lee III, a West Point graduate and superintendent of that institution, who ultimately made one of the most crucial and most difficult decisions in his life as a colonel in the U.S. Army when he resigned his commission to serve as the general for the Army of Northern Virginia in the Confederate States of America during the Civil War.