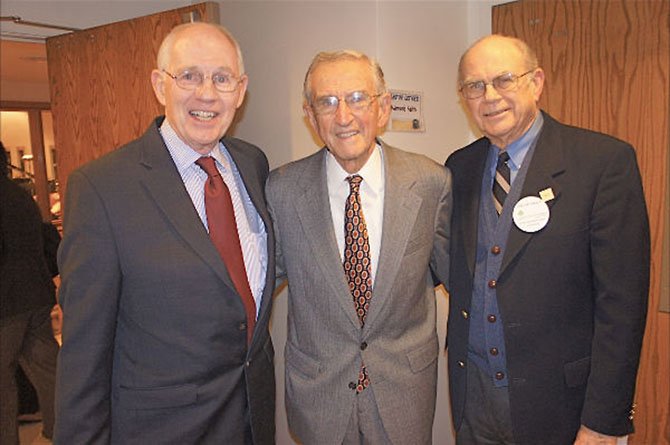 From left—Richard Duesterhaus, chair of Shepherd's Center of Oakton-Vienna board of directors, Board Member Julius Hankin, and Vice Chair William Kirby. Duesterhaus and Hankin were there at the beginning, two of the founders behind bringing the Shepherd's Center to Virginia, officially in 1997. Kirby says his goal "is to ring the Beltway with Shepherd's Centers." He's on his way. They have helped start up centers in Annandale/Springfield, Fairfax/Burke, and Mclean/Arlington/Falls Church.
Stories this photo appears in:
The Shepherd's Center of Oakton-Vienna sponsors the annual interfaith worship.
Linnea Nelson, director of Religious Exploration at the Universalist Unitarian Congregation of Fairfax, spoke at the 14th Annual Interfaith Thanksgiving Worship, sponsored by The Shepherd's Center of Oakton-Vienna (SCOA), hosted this year by Emmanuel Lutheran Church on Nov. 20th and attended by members of Methodist, Unitarian, Lutheran, Catholic, Baptist and other denominations.