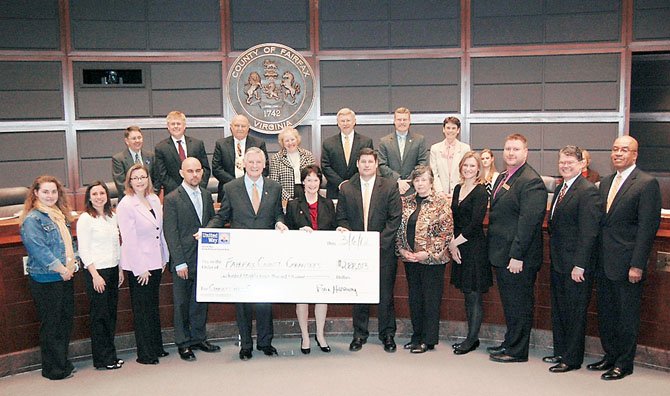 Board of Supervisors Chairman Sharon Bulova (center), accepts a $280,000 check from Bill Hanbury (next to the chairman, on her left), President of the United Way of the National Capital Area. Front row, from: Marcia DiTrapani, Herndon-Reston FISH, Inc.; Krista Osterthaler , The National Capital Poison Center; Jaime Farrant, Ayuda; Carol Loftur-Thun, The Women's Center; Joel Bedknoski, Alzheimer's Family Day Center; Kimberely Jappell, NOVAM; Elizabeth Doherty, KEEN Greater DC;United Way Fairfax Regional Council Co-Chair Paul Taffe of Wells Fargo; United Way Regional Council member Jeff Lear of Lear Communications; and Jim Shelton of Orange Panda.
Stories this photo appears in:

23 local organizations receive MORE THAN $280K to continue work.
The United Way of the National Capital Area (United Way NCA) awarded 27 grants totaling $288,013 to 23 local nonprofits during the Fairfax County Board of Supervisors meeting Tuesday, March 6.