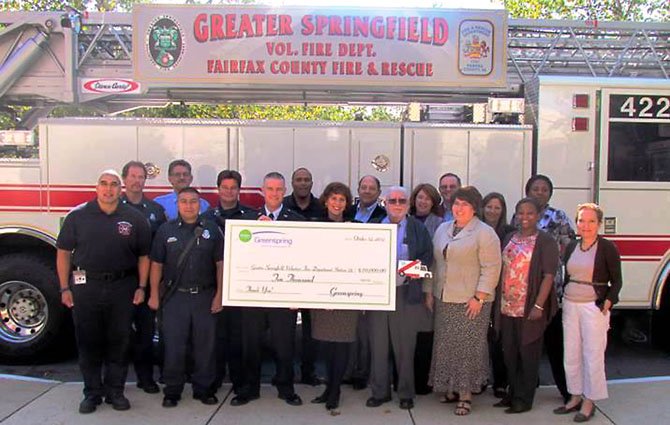 (From left) Station 22 Firefighters Sergio Nava, Mark Huehn, Rick Machado, Luis Mata, Bobby Bookwalter, Fire Chief Blake Payne; Greenspring staff members Ken Roland, Executive Director Robin Gliboff, Berwick Drews, resident Bill Campbell, Kimberly Nelson, resident Roy O'Connor, Lynn Keefe, Holly Borrero, Tamika Mitchell, Karen Boyce, Lee Long. Resident Bill Campbell, holding a small medic truck, made the truck at Greenspring's woodshop and presented it to the Station 22 Firefighters.
Stories this photo appears in:

Donations to Station 22 used for fitness equipment and station improvements.
Greenspring retirement community presented a donation of $10,000 to Station 22 of the Greater Springfield Volunteer Fire Department on Oct. 12. The donation, which was presented during National Fire Prevention Week, serves as a way for Greenspring to extend appreciation for the station's consistent and timely service to the community.