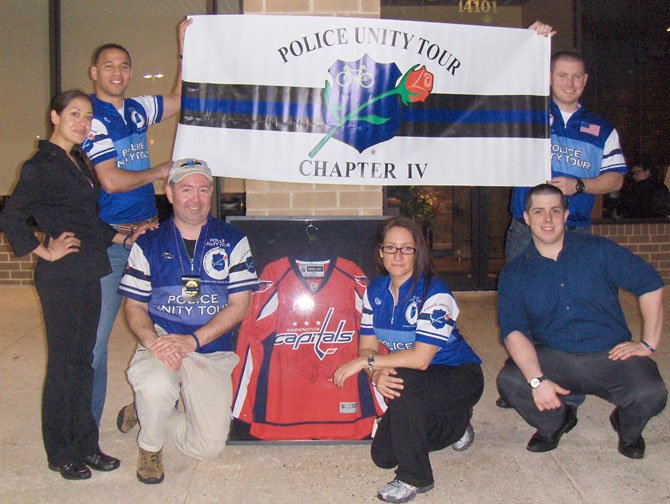 Federal agent Kevin Whalen held a Police Unity Tour fundraiser last Tuesday, April 16, at the Coyote Grill in Centreville. Raffled off was this Washington Capitals jersey. Holding banner (back row, from left) are City of Fairfax Police Officers Robert Mignon (K-9) and Jay Tolan (patrol). (Front row, from left) are Christine Castro, Coyote Grille; Kevin Whalen; U.S. Park Police Officer Lisa Marie Weisbaum and Randall Henderson, Coyote Grille. The event raised $1,000 in honor of Prince William County Police Officer Chris Yung, for whom Whalen will be riding.

Stories this photo appears in:
Centreville's Kevin Whalen is bicycling 230 miles, May 10-12, in the Police Unity Tour (PUT) Virginia ride. It raises money and awareness for the National Law Enforcement Officers Memorial fund and the National Law Enforcement Museum in Washington, D.C., honoring and remembering officers who've died in the line of duty.