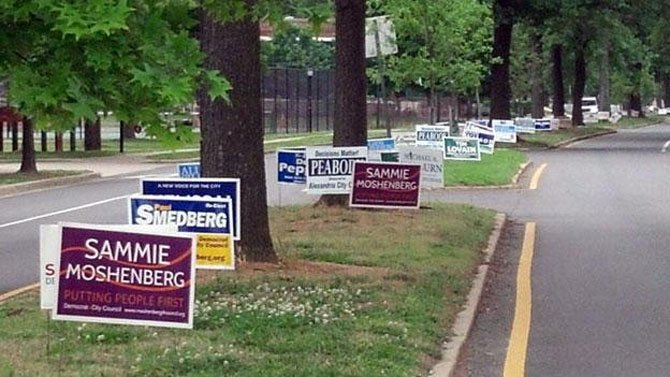 Don't expect to see political signs in the medians of Fairfax County this election season. Crews of nonviolent offenders are out four days a week confiscating the placards thanks to a new arrangement with the Virginia Department of Transportation.
Stories this photo appears in:

Political signs banished from roadsides as campaign season heats up.
Some people call them flowers of democracy. Others call them weeds of political pollution. Whatever one thinks of the campaign signs and placards that appear along the roads of Fairfax County, expect to see a lot fewer of them. Last month, county officials launched a new program in which nonviolent inmates at the county jail hit the streets four days a week to remove illegal signs. With apologies to Marshall McLuhan, the message is no longer in the median. Anger and resentment has been rising over the issue of roadside political signs for years, and campaigns frequently go to war with each other to see which side can plant or steal or deface the largest number of placards. Unlike Prince William County, which had an agreement with the Virginia Department of Transportation that allows the local government to collect the signs and fine violators, Fairfax was caught in a bind. Part of the Virginia code made it illegal for the county to remove the signs in Fairfax County until after an election.