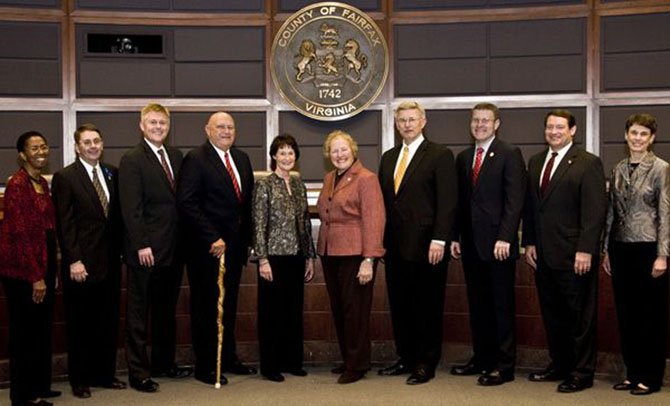 From left to right: Catherine M. Hudgins (D-Hunter Mill District); Michael R. Frey (R-Sully District); John C. Cook (R-Braddock District); Gerald W. Hyland (D-Mount Vernon District); Sharon Bulova (D-chairman, at-large); Penelope A. Gross (D-Mason District, vice chairman); John W. Foust (D-Dranesville District); Jeffrey C. McKay (D-Lee District); Pat Herrity (R-Springfield District); Linda Q. Smyth (D-Providence District). Board members are elected for four-year terms. There is no legal limit to the number of terms a member can serve. Each board member, including the chairman, receives annual compensation of $75,000 per year. For more information on the BOS, go to http://www.fairfaxcounty.gov/government/board/about-the-board-of-supervisors.htm.

Stories this photo appears in:

Local Government 101: Where the rubber meets the road.
We see them at just about every community event. They manage a budget larger than the budgets of four states, and rule over a county with a diverse, well-educated population of more than a million people. The 10 members of the Fairfax County Supervisors have an intense, time-consuming, insanely detailed job, one that comes with enormous power and even more responsibilities. They impact our lives in large and small ways, allocating money and resources in ways that can propel our community forward—or cost us our first-rate status in education, livability and culture. Yet most of us, media included, are so focused on politics at the state and national level that we overlook the decision-makers in our own backyard.