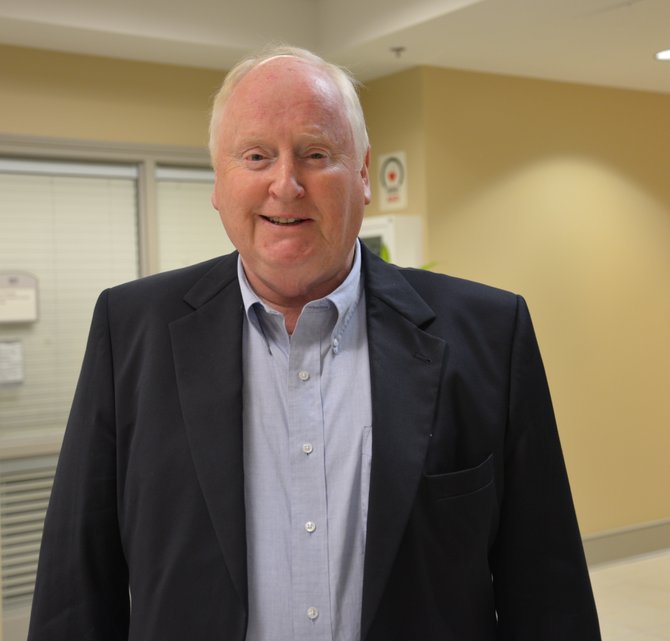 Rob Whitfield with the Dulles Corridor Users Group based in Reston cited some problems with the communication process and made suggestions to the NVTA on better reaching the general public with "this very important information that will impact everyone is the Northern Virginia region." Whitfield, noting his English accent with a laugh, also recommended the use of double decker buses instead of trolleys for the Columbia Pike improvements. "They certainly have proven their versatility and high capacity in dense traffic."
Stories this photo appears in:

Transportation Authority solicits public input on first year of proposed projects.
City Hall in the City of Fairfax was the location of the Northern Virginia Transportation Authority (NVTA) June 20 Open House and Public Hearing, seeking public opinion on proposed regional transportation projects. The Authority was created by the Virginia General Assembly in 2002 to provide a common voice for all Northern Virginia stakeholders on transportation and related issues. The Authority is made up of representatives from the counties of Arlington, Fairfax, Loudoun and Prince William, the cities of Alexandria, Fairfax, Falls Church, Manassas and Manassas Park, and one representative for the towns of Herndon, Leesburg, Purcellville, Dumfries and Vienna. The group also includes several members of the Virginia Assembly, governor appointees and non-voting representatives from the Virginia Department of Transportation and the Department of Rail and Public Transportation.