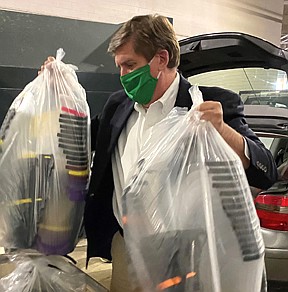 "I am particularly grateful for the big hearts of our Hunter Mill District residents during this challenging year. Since the pandemic began, the county and our nonprofits have asked our residents and businesses to donate food, clothes, and face masks, as well as volunteer their time. The response has been overwhelming at food drives, the Coat Closet and many other requests that have been listed on my webpage How to Help Your Neighbors in Hunter Mill District (fairfaxcounty.gov/huntermill). Thank you very much to everyone who has helped our vulnerable neighbors – it is a privilege to represent you on the Board of Supervisors." – Supervisor Walter Alcorn (D-Hunter Mill)
Stories this photo appears in:
Herndon, Reston Viewpoints.