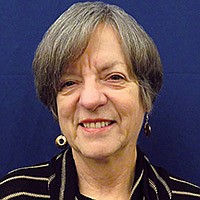 Fran Millhouser, Chair (Mason District) Fairfax County Library Board: "Thank you, Phil, and I want you to stay."
Stories this photo appears in:
Trustee Rosenthal apologies for 'wrong words' and retains board seat.
Fran Millhouser, Chair of Fairfax County Library Board, said she received "many emails voicing public concern" for statements made by Trustees Phil Rosenthal (Springfield District) and Darren Ewing (Dranesville District) during the previous board meeting in late July.