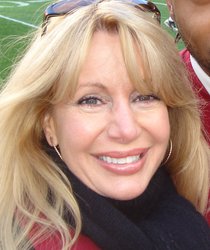 An award-winning journalist, Jeanne Theismann began her career at WTNH-TV in New Haven, Conn., where she was a news reporter and anchor as well as co-host of the daily "Good Morning, Connecticut" program. She went on to work for Seaway Communications, the first minority-owned U.S. broadcasting company before moving to Tokyo, where she spent several years working as a writer and editor for the Yomiuri Shimbun, the world's largest daily newspaper.
During her time overseas, Jeanne traveled extensively, covering the third Indochina War between Vietnam and Cambodia as well as the Seoul and Sydney Olympic games. She began several relief projects for children and refugees and has personally delivered more than five tons of medical supplies to orphanages throughout the world. She serves as a visiting professor at the Ukrainian Catholic University, in L'viv, Ukraine.
Jeanne serves on the board of directors for First Night Alexandria, the Alexandria Symphony Orchestra and the Alexandria Sportsman's Club. She is a member of the National Press Club, American Legion Post 24 and Rotary International, and is the media representative for the City of Alexandria's Local Emergency Planning Commission. She loves travel, technology and trivia and dreams of one day writing headlines for the New York Post.

Recent Stories
Community leaders to be honored at Philanthropy Summit
When Bill Butcher opened Port City Brewery in 2011, not only was he committed to producing a quality craft beer, he also made it a goal to use his time and resources to improve the lives of others in his hometown. On May 3, Butcher will be among those honored for his philanthropic contributions to the community at the 18th annual Alexandria Business Philanthropy Summit.

Couple bids farewell to Alexandria.
Alexandria residents James Caple and Cindy Way gathered with family and friends April 16 at the Old Dominion Boat Club to christen a specially designed boat that the couple plans to row across the Atlantic Ocean later next month.

SFA sets $1 million goal for TC students.
Move over Jerry Maguire. The Scholarship Fund of Alexandria is turning 30 and is looking to celebrate big, with a goal of raising $1 million for T.C. Williams students at its annual Spring Gala and Silent Auction April 23.

For years, he has known the agony of defeat. But when Kris Jenkins' 3-pointer slipped through the net as the final buzzer sounded, play-by-play announcer Ryan Fannon finally experienced first-hand the thrill of a Villanova Wildcats NCAA championship victory.

The Motown sound of The Intruders brought down the house while raising funds for Community Lodgings at the 11th annual Spring Forward Fundraiser April 10 at Union Street Public House restaurant.
It was Halloween night when Alexandria police officers Matthew Barnickle and Richard Vergara were dispatched to the scene of a motor vehicle crash. When they arrived, they found a car on fire with reports of a passenger trapped inside.

TC track stars raising funds to reach Rio.
Noah and Josephus Lyles, along with their 4x100 meter relay team from T.C. Williams High School, are headed to the Arcadia Invitational in California this weekend as they continue their quest to reach the 2016 Summer Olympic Games in Rio de Janeiro.

14 honored for community contributions.
The 2016 Living Legends of Alexandria were honored March 15 at the Meet the Legends reception, where more than 200 people turned out to celebrate the accomplishments of 14 individuals who have made a significant impact on the city.

Michael Conner dies at 68.
Each October during National Fire Prevention Week, a solemn ceremony takes place at Ivy Hill Cemetery where a Roll Call of the Fallen is taken to honor firefighters who have given their lives protecting the citizens of Alexandria. This year's ceremony will take on new meaning when the toll of a bell rings out for Michael Conner, the former deputy fire chief whose recruit class first dedicated Ivy Hill's Circle of Honor in 1970.

Senior Services of Alexandria hosted its annual Generation to Generation Gala March 12 at the Hilton Mark Center Alexandria. The 2016 honorees included Sue Goodhart and Allison Goodhart DuShuttle, and Kitty, Mike, Kirby and Keely Porterfield. H. Arthur Sauer was awarded with SSA's first Special Service Award. For more information about SSA's programs and services go to seniorservicesalex.org.