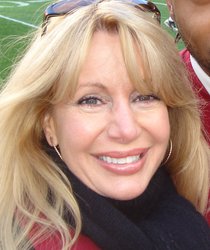 An award-winning journalist, Jeanne Theismann began her career at WTNH-TV in New Haven, Conn., where she was a news reporter and anchor as well as co-host of the daily "Good Morning, Connecticut" program. She went on to work for Seaway Communications, the first minority-owned U.S. broadcasting company before moving to Tokyo, where she spent several years working as a writer and editor for the Yomiuri Shimbun, the world's largest daily newspaper.
During her time overseas, Jeanne traveled extensively, covering the third Indochina War between Vietnam and Cambodia as well as the Seoul and Sydney Olympic games. She began several relief projects for children and refugees and has personally delivered more than five tons of medical supplies to orphanages throughout the world. She serves as a visiting professor at the Ukrainian Catholic University, in L'viv, Ukraine.
Jeanne serves on the board of directors for First Night Alexandria, the Alexandria Symphony Orchestra and the Alexandria Sportsman's Club. She is a member of the National Press Club, American Legion Post 24 and Rotary International, and is the media representative for the City of Alexandria's Local Emergency Planning Commission. She loves travel, technology and trivia and dreams of one day writing headlines for the New York Post.

Recent Stories

Memorial Day ceremonies honor the fallen.
Alexandrians gathered from across the city May 25 to honor the sacrifice of America's fallen service members in Memorial Day ceremonies held at Alexandria National Cemetery in Old Town.
Nonprofits, businesses recognized for local initiatives.
Community leaders from across the city gathered May 6 for the 17th annual Business Philanthropy Summit to honor the 2015 nonprofit and business philanthropists of the year.
Hawkins to focus on support for veterans.
Just weeks into his retirement from serving as president and CEO of the Alexandria Economic Development Partnership, Val Hawkins has joined the Military Family Initiative board of directors of the Military Officers Association of America.
Search continues for photos of Alexandria Vietnam veterans.
The name Humbert R. Versace is inscribed on Panel 01E, Row 033 of the Vietnam Veterans Memorial in Washington. But in his hometown, "Rocky" Versace's sacrifice and that of 66 other Alexandrians is memorialized in a statue on Commonwealth Avenue in Del Ray.

Artfully Chocolate to close its doors May 27.
When Eric Nelson turned 50 in the summer of 2006, he "jumped off the cliff."

Architect of affordable housing dies at 83.
For nearly 60 years, Melvin Miller was a fixture in Alexandria, known as a civil rights activist and the architect of affordable housing across the city.
Angus King to keynote Alexandria Sportsman's Club banquet.
Alexandria native Angus King, a former governor and current senator representing the state of Maine, will be on hand as the Alexandria Sportsman's Club honors the city's top high school athletes at its annual awards banquet May 19 at the Westin Hotel.

The Alexandria Chamber of Commerce honored 16 public safety personnel for exceptional performance in the line of duty at the 29th annual Valor Awards.
Three JROTC cadets were honored by the Sons and Daughters of the American Revolution during a ceremony held April 30 at Mount Vernon High School.
16 officers to be honored at the 29th annual Alexandria Chamber of Commerce Valor Awards.
It was a cold and icy February morning in 2014 when Alexandria police officer Michael Nugent responded to an emergency call on South Patrick Street.