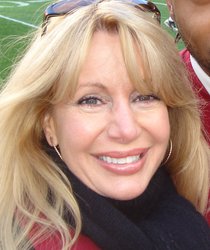 An award-winning journalist, Jeanne Theismann began her career at WTNH-TV in New Haven, Conn., where she was a news reporter and anchor as well as co-host of the daily "Good Morning, Connecticut" program. She went on to work for Seaway Communications, the first minority-owned U.S. broadcasting company before moving to Tokyo, where she spent several years working as a writer and editor for the Yomiuri Shimbun, the world's largest daily newspaper.
During her time overseas, Jeanne traveled extensively, covering the third Indochina War between Vietnam and Cambodia as well as the Seoul and Sydney Olympic games. She began several relief projects for children and refugees and has personally delivered more than five tons of medical supplies to orphanages throughout the world. She serves as a visiting professor at the Ukrainian Catholic University, in L'viv, Ukraine.
Jeanne serves on the board of directors for First Night Alexandria, the Alexandria Symphony Orchestra and the Alexandria Sportsman's Club. She is a member of the National Press Club, American Legion Post 24 and Rotary International, and is the media representative for the City of Alexandria's Local Emergency Planning Commission. She loves travel, technology and trivia and dreams of one day writing headlines for the New York Post.

Recent Stories

U.S. Rep. Don Beyer (D-8), for decades known for his charitable works throughout the region, will keynote the 17th annual Business Philanthropy Summit honoring Alexandria's top leaders for their service to the community. Sponsored by Volunteer Alexandria, the event will be held May 6 at the First Baptist Church of Alexandria.

Art reception celebrates end of winter.
When Nancy Ziegler's husband died in 2006, a friend gave her a gift certificate to be used at The Art League. It was there that she discovered her artistic talents and has been a flourishing artist ever since.

Salute to Women Awards honors 11.
T.C. Williams High School principal Suzanne Maxey was one of 11 women, including three from the Alexandria City Public School system, honored March 26 at the 35th annual Salute to Women Awards.

Police memorial dedicated to fallen officers.
Judy Birney was just 12 years old when her father, youth detective Conrad Birney, was killed responding to a bank robbery in 1972. She went on to follow in her father's footsteps, serving as an Alexandria police officer until 1999. On March 28, she joined more than 350 people for the dedication of the Alexandria Fallen Officers Memorial honoring the sacrifice of her father and 17 others who died in the line of duty.

Judge Daniel O'Flaherty dies at 89.
To anyone appearing in his courtroom, his name invoked fear. But those who knew Judge Daniel O'Flaherty, knew him as a kind and quiet man, a proud Irishman devoted to his family and the City of Alexandria.
Senior Services of Alexandria
Five years ago, Mary Lee Anderson was asked if she could help Senior Services of Alexandria set up an information database. Since that time, what was supposed to be a part-time commitment has turned into a second career for the international telecommunications corporate executive.
Landrum named acting CEO.
Val Hawkins, credited with luring the National Science Foundation Headquarters away from its longtime home in Ballston, stepped down effective March 15 as president and CEO of the Alexandria Economic Development Partnership.

Carroll takes the helm at Inova Alexandria.
When Susan Turner Carroll, the recently named CEO of Inova Alexandria Hospital, says she is from Alexandria, she means it.
Mary Ellen Feeney, a fourth generation Alexandrian, passed away peacefully March 9, 2015, in her home of 64 years on Richmond Lane. She was 89.

Officials discuss top state, local issues.
The Alexandria Chamber of Commerce hosted members of City Council and the Virginia General Assembly at its annual Legislative Breakfast March 10 at the Hotel Monaco.