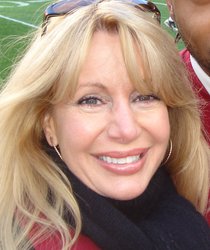 An award-winning journalist, Jeanne Theismann began her career at WTNH-TV in New Haven, Conn., where she was a news reporter and anchor as well as co-host of the daily "Good Morning, Connecticut" program. She went on to work for Seaway Communications, the first minority-owned U.S. broadcasting company before moving to Tokyo, where she spent several years working as a writer and editor for the Yomiuri Shimbun, the world's largest daily newspaper.
During her time overseas, Jeanne traveled extensively, covering the third Indochina War between Vietnam and Cambodia as well as the Seoul and Sydney Olympic games. She began several relief projects for children and refugees and has personally delivered more than five tons of medical supplies to orphanages throughout the world. She serves as a visiting professor at the Ukrainian Catholic University, in L'viv, Ukraine.
Jeanne serves on the board of directors for First Night Alexandria, the Alexandria Symphony Orchestra and the Alexandria Sportsman's Club. She is a member of the National Press Club, American Legion Post 24 and Rotary International, and is the media representative for the City of Alexandria's Local Emergency Planning Commission. She loves travel, technology and trivia and dreams of one day writing headlines for the New York Post.

Recent Stories