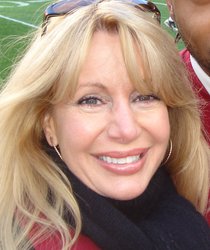 An award-winning journalist, Jeanne Theismann began her career at WTNH-TV in New Haven, Conn., where she was a news reporter and anchor as well as co-host of the daily "Good Morning, Connecticut" program. She went on to work for Seaway Communications, the first minority-owned U.S. broadcasting company before moving to Tokyo, where she spent several years working as a writer and editor for the Yomiuri Shimbun, the world's largest daily newspaper.
During her time overseas, Jeanne traveled extensively, covering the third Indochina War between Vietnam and Cambodia as well as the Seoul and Sydney Olympic games. She began several relief projects for children and refugees and has personally delivered more than five tons of medical supplies to orphanages throughout the world. She serves as a visiting professor at the Ukrainian Catholic University, in L'viv, Ukraine.
Jeanne serves on the board of directors for First Night Alexandria, the Alexandria Symphony Orchestra and the Alexandria Sportsman's Club. She is a member of the National Press Club, American Legion Post 24 and Rotary International, and is the media representative for the City of Alexandria's Local Emergency Planning Commission. She loves travel, technology and trivia and dreams of one day writing headlines for the New York Post.

Recent Stories
City's first African American Chief to step down Oct. 1.
After a 37-year career in law enforcement, Alexandria Police Chief Earl Cook has announced his retirement from the force effective Oct. 1.

Bill McNamara survived Normandy invasion.
At 15 years old, Bill McNamara was determined to join the U.S. Cavalry. But when he walked into the local armory one Friday night, he was told he was too young. Not to be dissuaded, he walked around the block, stepped back inside and this time gave his age as 18 to the recruiter. The year was 1936 and McNamara had joined what would become America's Greatest Generation, one of thousands who left for battlefields half a world away never knowing if they would ever see home again.

ASC awards $16,000 to high school seniors.
The Alexandria Sportsman's Club presented $16,000 in scholarships to eight high school seniors at the 61st annual Athletes of the Year banquet May 25 at the Westin Hotel.

Hard Times' Memorial Day Chili Dogs
Hard Times Cafe continued its nearly 25-year tradition of kicking off the Memorial Day holiday.

Caen Sister Cities committee to commemorate 72nd anniversary.
It was 80 years ago when Bill McNamara joined the National Guard in 1936. He was just 15 years old then and by the time he was 23, he was the youngest major in Europe, working for the Stars and Stripes newspaper and leading a six-man detachment across Omaha Beach on D-Day in 1944.

Lyles-Crouch concert salutes veterans.
With a flag-draped City Hall as their backdrop, fifth-grade students from Lyles-Crouch Traditional Academy presented A Tribute to Memorial Day concert May 27 in Market Square.

Memorial Day ceremony honors local veterans.
Arlisa Smith was 13 years old when her older brother Johnny died while serving his country in Vietnam. On Monday, Smith returned to the Del Ray neighborhood they grew up in to see for the first time the memorial where his name is chiseled in stone beneath a gold star.

Poet Laureate suffers massive heart attack.
Captain Ryan Wojtanowski, longtime head captain of the Dandy Dinner Boats in Alexandria, died suddenly May 26 after suffering a massive heart attack.

Business leader, philanthropist helped shape city.
His name may not be familiar, but anyone walking the streets of Alexandria has seen the influence of Roger Machanic, the real estate developer behind The Montgomery Center in North Old Town and The Crilley Warehouse Executive Office Suites.

Vietnam Memorial seeking photos of 13 local veterans.
The name of Capt. Humbert Roque "Rocky" Versace is among the more than 58,000 soldiers memorialized on the Vietnam Veterans Memorial Wall in Washington, D.C.