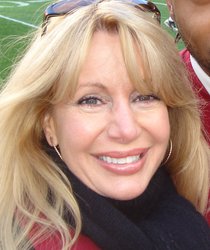 An award-winning journalist, Jeanne Theismann began her career at WTNH-TV in New Haven, Conn., where she was a news reporter and anchor as well as co-host of the daily "Good Morning, Connecticut" program. She went on to work for Seaway Communications, the first minority-owned U.S. broadcasting company before moving to Tokyo, where she spent several years working as a writer and editor for the Yomiuri Shimbun, the world's largest daily newspaper.
During her time overseas, Jeanne traveled extensively, covering the third Indochina War between Vietnam and Cambodia as well as the Seoul and Sydney Olympic games. She began several relief projects for children and refugees and has personally delivered more than five tons of medical supplies to orphanages throughout the world. She serves as a visiting professor at the Ukrainian Catholic University, in L'viv, Ukraine.
Jeanne serves on the board of directors for First Night Alexandria, the Alexandria Symphony Orchestra and the Alexandria Sportsman's Club. She is a member of the National Press Club, American Legion Post 24 and Rotary International, and is the media representative for the City of Alexandria's Local Emergency Planning Commission. She loves travel, technology and trivia and dreams of one day writing headlines for the New York Post.

Recent Stories
ACT for Alexandria hosts Spring2ACTion April 9.
On April 9, ACT for Alexandria is hosting Spring2ACTion, a 24-hour online giving competition to raise money for local nonprofits. In its fourth year, Spring2ACTion, the only citywide giving day in the region, hopes to raise $1,000,000 in 24 hours for 117 participating nonprofits.

In support of students enrolled in music classes throughout the city, First Night Alexandria announced contributions to the music programs at three Alexandria City Public schools. During a recent pyramid concert performed by the bands, orchestras and choirs of Francis Hammond and George Washington Middle Schools and T.C. Williams High School, First Night Alexandria presented contributions totaling $3,000 to support the music programs at the three schools.

Sweet Fire Donna's opens in Carlyle neighborhood.
It took a bit longer than expected because of weather and permit delays but it was worth the wait as BBQ fans lined up Feb. 27 to sample the fare at the opening of Sweet Fire Donna's, the latest offering from "Mango Mike" Anderson, Bill Blackburn and Anderson's wife Donna.

Deadline is March 31.
The Rotary Club of Alexandria is currently accepting applications for its annual grants to organizations that provide services to Alexandria's children, seniors and families in need.

Pork Barrel BBQ Hosts Meat Week challenge.
Skinny jeans were nowhere to be found as five contestants bellied up to the bar at Del Ray's Pork Barrel BBQ Jan. 29 to compete in the second annual High on the Hog Challenge as part of Meat Week 2014.

Giovanni Hernandez, a senior at Bishop Ireton High school, was presented with the Student Community Service Award by the Rotary Club of Alexandria at its Jan. 28 meeting at Belle Haven Country Club.

City Manager Rashad Young submitted his proposal for a $634.8 million General Fund Operating Budget for Fiscal Year 2015 before City Council Tuesday, Feb. 25, reflecting an increase of 1.6 percent over last year's budget while maintaining current real estate and personal property tax rates. "Expenditures are growing at a faster rate than revenue," said Young in detailing his proposed budget during a press briefing earlier in the day. "The challenge always is how to put together this big jigsaw puzzle to meet the needs of the different constituencies and stakeholder groups."
F. William Bauers Jr. was just 18 years old when he joined the Texas National Guard with plans of getting an appointment to West Point. But he was called to active duty less than a year later, qualified for Officer's Training School and went on to get his pilot's wings before ending up in Europe in January of 1944 flying B-26 Marauders. "It was exhilarating to be a pilot back then, to be in Europe and to be part of a force fighting against what we perceived as the enemy," Bauers would recall of his service during World War II. "The war created a sense of urgency because we never knew when we said goodbye if it would be our last time."
Peter Carrington Williams, a prominent attorney and director of community service projects for the Alexandria Rotary Club, died suddenly Feb. 13 while helping a neighbor clear snow from a driveway on Collingwood Road. He was 67.

When John and Debbi Kelly decided it was time for their two young children to study music, there was no question that their neighbor on Ridge Road would be the family's piano teacher. What they didn't realize was just how much that teacher would become a part of their lives — and their living room.