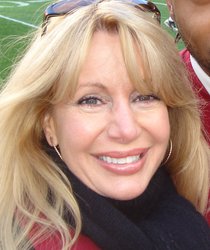 An award-winning journalist, Jeanne Theismann began her career at WTNH-TV in New Haven, Conn., where she was a news reporter and anchor as well as co-host of the daily "Good Morning, Connecticut" program. She went on to work for Seaway Communications, the first minority-owned U.S. broadcasting company before moving to Tokyo, where she spent several years working as a writer and editor for the Yomiuri Shimbun, the world's largest daily newspaper.
During her time overseas, Jeanne traveled extensively, covering the third Indochina War between Vietnam and Cambodia as well as the Seoul and Sydney Olympic games. She began several relief projects for children and refugees and has personally delivered more than five tons of medical supplies to orphanages throughout the world. She serves as a visiting professor at the Ukrainian Catholic University, in L'viv, Ukraine.
Jeanne serves on the board of directors for First Night Alexandria, the Alexandria Symphony Orchestra and the Alexandria Sportsman's Club. She is a member of the National Press Club, American Legion Post 24 and Rotary International, and is the media representative for the City of Alexandria's Local Emergency Planning Commission. She loves travel, technology and trivia and dreams of one day writing headlines for the New York Post.

Recent Stories

The sign outside simply reads "F.O.E." It is easy to miss when traveling along Cameron Street in the middle of Old Town. But for 110 years, members of Aerie 871 of the Fraternal Order of the Eagles have gathered here in friendship, fellowship and to reach out to those in need in the community.
Owner of Al's Steakhouse dies at 73.
His name wasn't Al. But he would answer to it and even sign autographs with the name so many assumed was his. He was Johnny Severson, and for more than 50 years he was the man behind the legendary cheesesteak sandwiches at Al's Steakhouse in Del Ray.
Broadway concert to benefit cancer research.
Move over Julius Erving. There's another "Dr. J" in town: international recording artist Negleatha Johnson, who hopes to slam dunk a benefit concert Aug. 16 following her sister's diagnosis of a rare and aggressive cancer.

Thousands attend Waterfront Park festival.
Thousands of attendees descended on Waterfront Park Aug. 8 for the annual Ballyshaners Irish Festival in Alexandria.

Ladyburg bath and body apothecary opens in Old Town.
For Crystal and Fred Wellman, there was never any doubt that Alexandria is where they were meant to be.
Active in the Alexandria Medical Society.
Harold John Berman, a dermatologist who practiced in Alexandria for more than 54 years, died June 28 at Suburban Hospital of respiratory complications. He was 87.

Filmmaker, arts advocate dies at 47
Sydney-Chanele Dawkins, an award-winning filmmaker, film festival producer and former chair of the Alexandria Commission for the Arts, died July 8 at her home in Alexandria of complications from breast cancer. She was 47 years old.
ASO, fireworks highlight festivities.
The City of Alexandria celebrated its 266th birthday July 11 as more than 15,000 people enjoyed food, music and fireworks at Oronoco Bay Park.

Kids Empowering Kids debuts music video.
Their voices were timid at first, but one by one students at William Ramsey Elementary School spoke up when asked how they have been judged by their friends and classmates.
Alexandria tops list of cities for veterans.
The Military Times has named Alexandria as the top mid-size community for veterans in its first Best for Vets: Places to Live feature article.