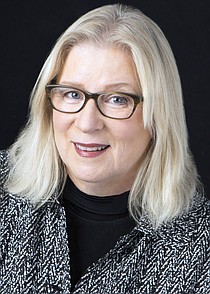 Mary Kimm is an award-winning journalist, opinion writer and editor inspiring excellence and change in media for more than 20 years. As publisher of the newspaper group, she has led operations as well as news and editorial, recently leading Connection Newspapers to the Virginia Press Association Award for Journalistic Integrity and Community Service.
Mary Kimm is editor of the Connection Newspapers, serving the suburbs of Washington, D.C., including the City of Alexandria and the City of Fairfax, Fairfax County and Arlington County in Virginia, as well as parts of Montgomery County, Md. The papers have won hundreds of press awards for investigative reporting, public service, editorial writing, news, election coverage, projects, features, sports, design, photography and more during Kimm's tenure, all in an ever tightening economic environment. Kimm has worked at the newspaper chain in a variety of roles since 1989.
Winner of multiple awards in editorial writing and public service in the Virginia Press Association and the Maryland-Delaware-DC Press Association, Kimm's editorials have been cited in local efforts to end homelessness and increase government transparency.
Mary Kimm serves on the Governing Board of the Fairfax-Falls Church Partnership to Prevent and End Homelessness, and on the Board of Directors of the Boys & Girls Clubs of Greater Washington Fairfax Region.
She also serves on the Board of Directors of the Media in Democracy Institute and numerous community organizations, including the Potomac Chamber of Commerce.
Kimm holds degrees in Economics and Political Science from Swarthmore College. Born in Brooklyn, N.Y. in 1955, she is the mother of two PhD scientists. She has also worked in banking, real estate and education. Interests include kayaking, the Potomac River, birding, photography and horseback riding.
www.marykimm.com
Find her on Twitter, www.twitter.com/marykimm
Recent Stories

Variety of coverage honored at annual Virginia Press Association conference.
On Saturday, April 18, a group of journalists from the Connection Newspapers traveled to Roanoke for the annual Virginia Press Association event to collect awards for business reporting, government writing, writing about health, science and the environment, feature writing, sports writing, column writing, obituaries, cartoons, entertainment pages and writing, public safety writing, editorial pages and writing, page design, informational graphics and more.
Results of the annual census of homeless show progress, persistence of the problem, and some worrying trends.
On the night of Jan. 28, 2015, there were 1,204 people who were literally homeless in the Fairfax County area.
Register, research, vote. And vote again.
Every year is an election year in Virginia. Here are a few examples that demonstrate that while elections are ubiquitous in Virginia, they are neither simple nor unimportant. Wade in, a lot depends on figuring this out and voting. This is not intended to be a comprehensive list of candidates.
A look at recently ended session of the Virginia General Assembly.
The 2015 session of the Virginia General Assembly came to an end last week, and some of the biggest news was about what it did not do.
Time for change in public access to police information.
The first meeting of the Fairfax County Ad Hoc Police Practices Review Commission will take place next Monday, March 23, and it comes with hope for real change.
Natasha McKenna's death provides window on national concern.
A national report released on Feb. 11 highlighted the prevalence of people with mental illness incarcerated in local jails.
Secrecy around police shootings has been a problem for at least a decade.
The official position of the Fairfax County Board of Supervisors on the need for changes in policy after the shooting of John Geer by police in Springfield in August of 2013 appears to be that this is the first time police policies have been a problem: "Policies for handling police-involved incidents, which served us well for decades, were inadequate in this complicated situation."
Everything about this case erodes public trust and demonstrates police departments should not be allowed to apply "blanket" exemptions to release of information.
After waiting 17 months for any information about the investigation into the shooting death of John Geer, the information released last week is deeply troubling.
The Pet Connection, a bi-annual themed edition, will publish Feb. 25, 2015.
Many bright spots will be overshadowed in the coming budget season.
Long awaited, the opening of the Silver Line promises to bring transformation to Tysons and around the current station in Reston, with another Reston station and Herndon to come.