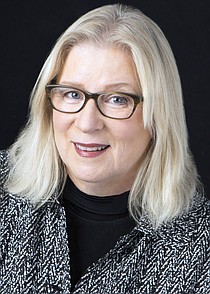 Mary Kimm is an award-winning journalist, opinion writer and editor inspiring excellence and change in media for more than 20 years. As publisher of the newspaper group, she has led operations as well as news and editorial, recently leading Connection Newspapers to the Virginia Press Association Award for Journalistic Integrity and Community Service.
Mary Kimm is editor of the Connection Newspapers, serving the suburbs of Washington, D.C., including the City of Alexandria and the City of Fairfax, Fairfax County and Arlington County in Virginia, as well as parts of Montgomery County, Md. The papers have won hundreds of press awards for investigative reporting, public service, editorial writing, news, election coverage, projects, features, sports, design, photography and more during Kimm's tenure, all in an ever tightening economic environment. Kimm has worked at the newspaper chain in a variety of roles since 1989.
Winner of multiple awards in editorial writing and public service in the Virginia Press Association and the Maryland-Delaware-DC Press Association, Kimm's editorials have been cited in local efforts to end homelessness and increase government transparency.
Mary Kimm serves on the Governing Board of the Fairfax-Falls Church Partnership to Prevent and End Homelessness, and on the Board of Directors of the Boys & Girls Clubs of Greater Washington Fairfax Region.
She also serves on the Board of Directors of the Media in Democracy Institute and numerous community organizations, including the Potomac Chamber of Commerce.
Kimm holds degrees in Economics and Political Science from Swarthmore College. Born in Brooklyn, N.Y. in 1955, she is the mother of two PhD scientists. She has also worked in banking, real estate and education. Interests include kayaking, the Potomac River, birding, photography and horseback riding.
www.marykimm.com
Find her on Twitter, www.twitter.com/marykimm
Recent Stories

Opening up records of "unattended deaths" to families.
Virginia has missed out on $10 billion, 30,000 jobs and care for 400,000 citizens.

New auditor and panel will make an excellent police force better, more transparent and accountable.
In February, the Fairfax County Board of Supervisors followed through in establishing two forms of independent oversight of law enforcement for the first time in county history.

University of Virginia seminar studies tension between "The Science & Lived Experience of Autism."
Despite a recent surge in attention and research over the past decade about autism, controversy exists.
Results of the 2017 session of the General Assembly.
GOOD THINGS Progress in funding mental health and addressing the opioid epidemic on multiple levels were among the successes of the 2017 General Assembly session.
Attend a town hall meeting and express your priorities.
Alexandria and Arlington each have a meals tax, both enacted without a referendum because as urban forms of government in Virginia, their local elected bodies were authorized to enact the tax legislatively.
Efforts appear dead for this session, but elections later this year provide new opportunities.
While three bills that could have reined in the runaway gerrymandering in Virginia made it through the Virginia Senate to crossover, they died on Tuesday morning in a House subcommittee, despite some vocal Republican support.
The Pet Connection, a twice-yearly special edition, will publish the last week of February, and photos and stories of your pets with you and your family should be submitted by Feb. 15.