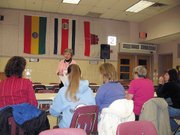 A handful of parents and teachers from Springfield Estates Elementary school attended the only community meeting to discuss a proposed boundary adjustment at the school. The adjustment would transfer about 100 students from there to Forestdale Elementary starting next fall.
The five women agreed that removing the students would help provide some space at Springfield Estates, but wondered if more could be done to help reduce overcrowding at the school.
During the Nov. 28 meeting, Denise James, director of the Fairfax County Public Schools' Office of Facilities Planning, explained that the children who would be moved all live in a single community.
In fact, the community was originally slated to attend Forestdale, but at the time the homes were completed, Forestdale was overcrowded and Springfield Estates had excess capacity.
"When the Springfield Crossing apartments were built, we did not have sufficient space at Forestdale," James said.
Now a small "island" of students who live within the larger Forestdale boundary attend Springfield Estates, and getting rid of the island would bring those students back.
If approved by the School Board in February, rising sixth-grade students could opt to stay at Springfield Estates, but students in kindergarten through fifth grade would begin to return to Forestdale, James said.
"Right now, we're looking at about 119 students that would move back, which will keep Forestdale below capacity," she said.
The five women in attendance from the community were concerned that Springfield Estates would still be seriously over capacity.
According to a handout distributed at the meeting, Springfield Estates has a capacity of 450 students and a current enrollment of 688 students. Enrollment projections for the 2008-09 school year put Springfield Estates at 744 students, with those numbers expected to rise to 812 for the 2012-13 school year.
At Forestdale, however, the school's 588-student capacity, which includes a modular unit completed in 2006, has an enrollment of 419 students with an enrollment projected at 413 students for 2008-09 and 434 for 2012-13.
THE PARENTS agreed that moving the 119 students would help, but it is not enough.
"Teachers have no place to work," said Julia Clark, a kindergarten teacher at Springfield Estates. "We have teachers working in broom closets."
Cluster V Administrator Betsy Fenske acknowledged that the boundary change would not fix the situation outright.
"There would be 100 fewer students," she said.
The schools have a number of similarities, including School Age Child Care programs, full-day kindergarten and English for Speakers of Other Language classes.
Additionally, both schools are within the Key Middle and Lee High School pyramid, so students will be able to continue with most of their classmates in seventh grade and beyond, Fenske said.
Clark said she was afraid the school would be "grossly overcrowded forever" unless the School Board could offer a better solution.
"There is no elegant solution right now," said School Board member Brad Center (Lee). "I don't think the solution is bricks and mortar, that won't reduce the core capacity problems."
Even a brick and mortar solution, building more classrooms, might not be considered among parents.
"We're not even on the list for renovations yet," said Heather Nelson, a Springfield Estates parent and teacher.