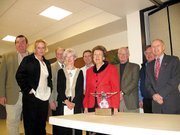 As the last few weeks of her 24 years of public service wind down, Springfield Supervisor Elaine McConnell (R) has had the chance to look back on her work in Fairfax County.
While she's encountered a few surprises along the way, one she did not anticipate welcomed her at the annual meeting of the Occoquan Watershed Coalition on Sunday, Dec. 2, when she received the first John Ringle Award. The award recognized the retiring supervisor for her work in preserving land along the Occoquan River.
"We created the Ringle Award to honor someone who made a considerable contribution to the watershed," said board president Jim Bonhivert. The award is named for John Ringle, often referred to as the "Father of the Occoquan" for his dedication to the environment and work to secure 5-acre lots along the Occoquan River to protect the watershed.
"Elaine was instrumental in getting Henderson Road off the map as a four-lane highway and made sure the bridge over Route 123 was completed," said Bonhivert, in presenting the award to a speechless McConnell. "She has done so much for this area to help preserve the watershed and has been a great friend to us all."
In addition to a Stuben glass eagle with a plaque bearing her name, a tree will also be planted in McConnell's name in recognition of her years of service, Bonhivert said.
"This has been a very special area during my time on the board," said McConnell, after hugging John Ringle's widow, Maxine Ringle. "When I first got elected in 1983, we were just starting to work on the down zoning. I spent the first 10 years in office fighting 50 lawsuits to make sure we preserved those 5-acre lots, but we won," she said.
McConnell said she had confidence her successor, Supervisor-elect Pat Herrity (R-Springfield) will maintain her dedication to the environmentally sensitive region when he takes office in January.
"I have enjoyed this part of the community and I have enjoyed working with this group so much," she said to the Occoquan Watershed Coalition's Board of Directors.
Herrity, a resident of Clifton, said he has learned more about the work McConnell has done in the past few weeks as he prepares to take her place on the Board of Supervisors.
"I thought I knew what the job was, but there is so much I'm finding I did not know," he laughed. "What she has done for the county is just incredible."
Herrity said he is familiar with issues facing the watershed and is eager to work with the Coalition in continuing to preserve the watershed, both as a Supervisor and in his new role as a member of the Coalition's Board of Directors.
State Sen.-elect George Barker (D-39), already a longtime member of the Coalition's Board of Directors, said he was ready to use his membership more effectively once he officially takes office in Richmond.
"I will work hard to protect the watershed in any way I can," Barker said. "I represent both sides of the river now, and I'm already aware of a little problem Prince William County is having with some storm water run-off because they haven't been as pro-active as we are," Barker said.
Barker defeated incumbent Sen. Jay O'Brien (R) for the 39th District Seat, which represents both Fairfax and Prince William Counties in the State Senate.
A member of the Coalition since 1983, Barker said he was eager to continue McConnell's work.
"I think she is truly deserving of this award as a small token of our appreciation for all her hard work," he said.