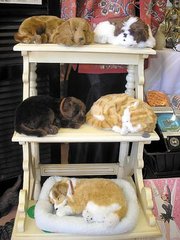 There is one challenge that goes with every holiday season --how to find that singular gift that is really special -- the one that doesn't exist in the big retail mega stores. The good news is it does exist. It just takes shopping at the smaller specialty stores.
Each of the following merchants has highlighted a particular item in their store that they have identified as that "one singular sensational" gift that can't be found anywhere else. However, each store has a host of items that would make the perfect gift for that someone, or someones, special on every list.
There is also a mental-stress-fatigue gift for the shopper in visiting the smaller specialty stores.. Owners of the shops are on site and can provide personal attention. Employees know their products and are void of that deer caught in the headlights stare when asked a question. And, maybe best of all, shoppers avoid mall mauling by thousands of their closest and dearest friends.
This list does not mean to imply these are the only specialty shops in the Mount Vernon/Alexandria area. Nor are these the only specialty items in these stores or the area. It is merely another guide to find something for that someone who has everything or tops that special list. Here they are:
Hodges Gallery, 1520 Belleview Boulevard, in the Belle View Shopping Center, has the "perfect pets" according to manager Libby Bryant. "They require no walking, no doggy doo bags or litter boxes, and they won't aggravate allergies," she said. They are small, furry, electronically "breathing" dogs and cats that sell for $35 each.
Also in Belle View Shopping Center at 1632 Belleview Boulevard is The Virginia Florist. Once again owner Kevin Green has come up with the one-of-a-kind gift for the political junkie on that shopping list. What better holiday season than this when both political parties are lusting after 1600 Pennsylvania Avenue?
For that particular spot on a wall, home or office, is an elegantly framed collection of original presidential campaign buttons from 1896 to 2004 -- one set for each party. They are priced at $1,200 each. If that price is a little steep how about a political, red, white and blue tin of cookies? Again, one for elephants and another for donkeys priced at $15.50 per tin.
Moving down Fort Hunt Road to Hollin Hall Shopping Center there are three shops that have unusual holiday gift offerings. If wrapping presents is not your thing drop into Ben Vennell's Hollin Hall Variety Store, 7902 Fort Hunt Road, they have the perfect solution -- decorated boxes that are as colorful on the inside as on the exterior.
Available in a wide variety of sizes, the smallest, designed to hold a broach or necklace, sells for 59 cents. The largest, priced at $9.49 each, can hold clothing or other larger items. With their colorful holiday and winter scenes, they also make attractive and unusual gifts in and for themselves.
Just one door away, 7906 Fort Hunt Road, is The Blossom Shop that not only has a wide array of spectacular gifts but also owner Dorothy Trimber is an accomplished floral decorator who produces custom made live decoration for home and office.
"Our "Father Christmas" Australian crystal jewel box is perfect if you are giving a ring for the holiday's or by itself," said Trimber. Standing approximately four inches tall, the tiny Santa comes in an special box with a history. It sells for $62.
At 7910 Fort Hunt Road, The Gift Store, owned by husband and wife team Deborah and Doug Bentley, is offering the techie gift of the season along with their usual array of eye-catching music boxes and other items. The Webkinz by Ganz allows the recipient to have a pet in the virtual world.
Through the use of computer technology Webkinz can provide a family link across the room or across the world. Each pet can get a job, play with other pets, send messages, and participate in a host of activities. The Gift Store also carries all the accessories. Geared to recipients from five to teenage they sell for $13 each.
OLD TOWN ALEXANDRIA is a specialty shopper's paradise. There is everything from art to clothing to unusual home and office decorating items to crystal and china, and virtually an unlimited choice of person-perfect gifts.
If you're looking for a conversation piece that can also provide entertainment for family and guests throughout the year look no further than Wilfred-Rodgers, 320 King St.; that's where "Teddy Takes Requests." Who is Teddy? A small bear, seated at a small piano, wearing a small hat that can be changed depending on the tune he is playing.
"He plays 60 different songs," said co-owner Stanley E. Rudy, as he replaced Teddy's hat with another from the accompanying miniature hat stand that is part of this three-piece set. Teddy sells for $135 and is only one of the myriad items in the shop that could make the perfect holiday gift.
For those wanting to give a gift that truly captures the seaport history of Alexandria, Gallery Lafayette at the rear of Gadsby's Arcade, immediately across King Street from City Hall, is the place to go. Owner Todd Healy is offering an elegant Christmas ornament that depicts 18th century Alexandria behind a tri-masted schooner arriving at City Dock. Priced at $26, it is only one of many possibilities to be found in this long established Alexandria gallery that specializes in capturing the essence of Old Town.
Why Not children's store, 200 King St., at the corner of King and South Lee streets, offers a wide selection for children — everything from clothing to entertainment items. This year's hot item, according to owner, Kate Schlabach is the "Art Easel" by Malissa & Doug Co. It sells for $51 and can be viewed in Why Not's window facing Lee Street.
For far-out gifts, Artcraft, 132 King St., and Decorium, 116 King St. are the places to shop. Both have items that could be on the endangered species list.
Entering Artcraft shoppers are immediately greeted by a 5-foot wooden statue of John Lennon with guitar — the perfect gift for that friend that's a throwback to San Francisco's Haight Ashbury era. Created by Paul Carbo, this late Beatle carries a price tag of $3,080.
A few doors down King Street toward the river is Decorium Gift & Home, owned and operated by Jeff Albert. Within its walls is a virtual treasure trove of decorating accessories. One of the most intriguing is a three foot, gold, electronic Ferris wheel with two ferrie dolls in each of four seats.
Created by Mark Robert, it is titled "North Pole World Fair Ferris Wheel." Priced at $1,800, it is being offered at 20 percent off.
With cold weather finally arriving the perfect keep warm gift can be found at The Irish Walk, 415 King St. It's a handmade authentic Irish Sweater that sells for $225. This shop also offers a wide array of Irish items straight from the Emerald Isle. Included among them is an excellent selection of Waterford Crystal.
What better place to end the search for that special, unusual, keepsake gift than The Christmas Attic, 125 S. Union St. A holiday decoration extravaganza that offers Christmas year round this is definitely the place to locate that particular item that says "Happy Holidays" in a million ways.
Dec. 13 is going to afford the dedicated shopper an opportunity to garner a hand signed Steinbach Nutcracker character. The late Steinbach's daughter Karla, who now runs the Steinbach company, will be at Christmas Attic that day to personally sign the number four Nutcracker character from Steinbach's "Twelve Days of Christmas" collection.
Standing approximately 18 inches tall, this character is dressed in a red Santa cloak with swans and a partridge in a pear tree. It sells for $400, including Karla Steinbach's signature.