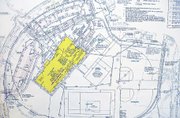 The light at the end of the tunnel is growing a little brighter for parents of elementary school-aged children. Construction is slated to begin on the new elementary school in Laurel Hill early next year.
Thanks to the countywide support of a bond referendum approved by voters last month, the school will open in time for classes to begin in September 2009, said Kevin Sneed, director of design and construction for Fairfax County Public Schools.
"Plans are available now for contractors to look at and place bids" for the contract to build the school, which should be awarded by early January, Sneed said. Construction should begin 30 to 40 days after the contract is signed.
Using a plan designed by Fairfax County Public School systems' architects and implemented at newer schools like Island Creek in Alexandria and Eagle View in Fairfax, the new elementary school will have 38 classrooms, including some with partition walls that can be used to create smaller rooms, Sneed said.
The school will have two additional rooms for all-day kindergarten that were not included in the original plans for the 98,500-square-foot school building.
School Board chair Dan Storck (Mount Vernon) said he is eager to see work begin on the site, located in the heart of the Laurel Hill community and just across the street from South County Secondary School.
"I'm hoping have a formal groundbreaking ceremony in mid-February," Storck said. "I want to let the community know this school is really being constructed."
That should relieve Lorton-area families, especially those with young children currently attending Silverbrook or Lorton Station elementary schools. Those schools have been well over capacity for several years now. Only Halley Elementary, which also serves the Lorton area, has extra capacity.
"We recognize it's been a major challenge to students, parents and staff at Silverbrook and Lorton Station. Being overcrowded is not an ideal learning environment," Storck said. "We want to make it right. With the addition of this new school, we will have the capacity to balance enrollment so all four schools will have room to grow, if needed."
Construction is expected to take about 18 months, Sneed said, and a principal and staff will begin to be established in early 2009.
MUCH LIKE the process that was involved in giving South County Secondary its name, residents will be invited to submit their ideas to the School Board at about the same time, Storck said. The top three names, as selected by residents, will go on to the School Board for final selection.
Members of the community are already starting to prepare for the new school, especially in Laurel Hill, said parent Christine Morin.
Better known to most parents as one of the leading advocates of building a middle school in the area, Morin said she is on a committee with other Laurel Hill residents to update their neighbors on the elementary school's progress.
"The land has already been brought up to grade and seeded, but nothing much else has happened since this summer," Morin said.
Pulte, the developer that built most of the Laurel Hill neighborhood and helped finance South County Secondary, agreed to level the land in preparation for the school's construction as part of its proffers several years ago.
For the next few months, however, residents will have to wait to see concrete and metal starting to rise out of the ground near the Laurel Hill community center.
"People are excited about not having to be in overcrowded elementary schools," Morin said.