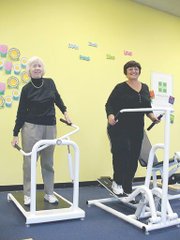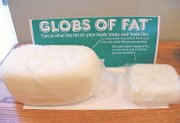 It sneaks upon us over time; clothes begin fitting tighter and figuring out what to wear becomes problematic. Slowing metabolism or attending too many holiday gatherings can be blamed for weight gain. According to a study by the National Institute of Child Health and Human Services and the National Institute of Diabetes and Digestive Kidney Diseases, people gain one or two pounds each year during the holiday season. The problem is that this weight stays on during the year and more pounds are gained during the following winters. A realistic goal for people during the winter is to maintain — not gain — weight and make sure an effective exercise program is in place.
The U.S. Center for Disease Control and Prevention says, "Regular physical activity substantially reduces the risk of such diseases as coronary heart disease, stroke, colon cancer, Type 2 diabetes, osteoporosis and high blood pressure."
JAZZERCISE VIRGINIA district manager Robin Nistle said, "We may be tempted to skip our workouts during the holidays, but this is the time when we need the benefits of exercise the most. Exercise releases endorphins into our bodies, which give us more energy and minimizes stress. This is especially beneficial during the holiday season." Jazzercise is a 60-minute dance-based aerobics and muscle-training program set to the latest music on the radio. People of all ages and abilities are welcome and lower impact moves are demonstrated. "Exercise plays a major role in emotional, physical and mental well-being," Nistle said.
Eric Sutton, owner of Fitness Together in Ashburn said, "Exercise is a huge part of being healthy; the more people can do the better off they'll be in the long run." He added that it's important to use workout time efficiently so people can get maximum benefits and not waste their time.
Fitness Together is a private franchise with a team of trainers who work together to help clients set and reach weight and nutrition goals. Programs are designed for each member. Resistance, cardiovascular, nutrition, vitamin supplementation and one-on-one training areas are addressed. This private studio is by appointment only and participants have privacy and equipment availability.
"We hold clients accountable to their specific program goals," said Susan Hahn, manager of Fitness Together. "Trainers train with compassion, yet hold participants accountable so they get the results they want. We have a passion for changing lives." Fitness Together is conducting a holiday program for members who want to have fun team challenges and win prizes.
SONJA BEILER, owner of Curves in Ashburn said, "Exercise is so important. If people just diet they'll end up losing muscle mass." She displays a tactile sample of fat and muscle so people can see and feel what they carry around in their bodies. Curves offers strength and cardiovascular training for women and the workouts take 30 minutes. There is no set appointment time so ladies can stop in when convenient for them. In the past, Beiler and her daughter drove distances to workout at Curves facilities. She was offered the Ashburn location in 2002 and has been in business with Curves ever since.
"It's quick, fun, safe and effective. Women are busy today. My sister and I went to a Curves facility and it worked. We wanted to keep ourselves healthy and we believe in this program," said Debbie Anderson, co-owner with her sister Michelle Messich, of Curves in Sterling. The Curves machines have fluid inside the cylinders so opposing muscle groups are worked when in use. Messich pointed out that strength training helps prevent osteoporosis.
"I have more flexibility and stamina thanks to Curves," said member Maggie Kuennen. She said her posture and overall health have improved since working out. Baylor University conducted studies and found that overweight women who participated in the Curves program for 14 weeks lost weight. Combined with dieting, ladies lost an average of 14 pounds within 10 weeks.
DR. DAVID GOODFRIEND, director of the Loudoun County Health Department, encourages everyone to stay healthy during the holidays. Diet and nutritional counseling are available for pregnant women and women with children under 5 years of age through the Women, Infants, and Children (WIC) program. "This is an important program and helps people with challenges stretch their dollars and educates them to make healthy choices." He also encourages everyone to make sure foods are appropriately refrigerated so people don't become sick during the holiday season. People generally cook greater amounts than usual. He also recommends people get flu shot unless there is a reason they cannot.
Everything counts. "There is value and importance in fitness. Small changes can make a difference. It's important to stay active during the winter months. Walking in the mall helps, too. Everything adds up, even 10 minutes here and there," Nistle said.