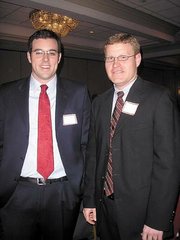 Once again the Lee District Association of Civic Organizations (LDACO) packed the ballroom of the Springfield Hilton Tuesday night for its Holiday Banquet. This year, however, it was a particularly momentous occasion complementing the season of goodwill and cheer.
Outgoing Lee District Supervisor Dana Kauffman (D) passed on the political baton to his chief of staff and Lee District Supervisor-elect Jeff McKay (D). After 12 years in public office, Kauffman described himself as "a recovering politician."
As he phrased it in his opening remarks to the several hundred banquet attendees, "Twelve years ago, I was a private citizen. Next month, I get to be one again. In the intervening years, I've had the privilege of being your local supervisor and I hope I've earned your respect and trust along the way."
The audience left no doubt that Kauffman had more than accomplished that goal as the entire ballroom crowd rose to its feet applauding as he finished his farewell address. The general feeling was best summarized by Fairfax County Board of Supervisors Chairman Gerald Connolly (D-At-large).
"I'm not only going to miss you very much on the board but also I'm going to miss your leadership, guidance and advise. You have been my sherpa in guiding me through many difficult situations," Connolly said.
McKay has served as Kauffman's chief of staff for the past 12 years as Kauffman did with his predecessor. Referring to the approaching official change, Kauffman told the crowd, "It doesn't happen very often but time and again, we've all gotten used to it. It's been a good 12 years for me and I will always be grateful for the responsibility you gave me and the trust you vested in me. You've been a great boss."
DURING HIS SPEECH, Kauffman recalled a series of accomplishments of which he was particularly proud. He also shared some advise for the future of Lee District. He stated that the "one accomplishment that I most enjoyed helping to bring about" was the Northern Virginia Community College's Medical Education Campus.
As Springfield's "first significant public investment" Kauffman said, "It sure beats having a baseball stadium in our backyard with its proven insatiable appetite for more and more tax dollars." He also characterized the Medical Education Campus as the first major project that "wasn't all about asphalt."
Kauffman offered some precautions for the future. "Our county is in transition. At the turn of the last century, we were the biggest dairy producer in the state. At the beginning of this century, we've become the biggest job producer in the entire region," he said.
Noting that Fairfax County is no longer the suburbs, he implored citizens and politicians alike to get over the fear of admitting it is an urban area. "The 'U' word — for urban — is almost as feared in political conversation as the 'T' word for taxes. We need to get over this," Kauffman said.
He spoke of the county's aging population, the overcrowding in neighborhoods that's being addressed through the Strike Team operation, and the need to change thinking in solving the growing traffic gridlock. "Flexible hours and more trust to let people work from home must become a common opportunity for workers at all levels," he said.
He paid particular tribute to Linda Waller on his staff who he credited with leading his office "in rolling out a wealth of community building activities and events." He attributed those efforts and others throughout his tenure with making Lee District special. "Lee District isn't just a state of mind it is a real place," Kauffman said.
For his years of service Kauffman was presented with a certificate of recognition as well as a series of comical items from his staff. One of those was a bottle of "medication" to aid a "recovering politician."
THE OTHER HIGHLIGHT of the evening was the presentation of the Les Dorson awards given each year to a "Distinguished Public Service Professional" and the "Citizenship Award" presented to a citizen who has given of their time and energies to serve the common good in some area of local government.
This year the former went to Cal Wagner of the Fairfax County Office of Consumer Affairs who had been nominated by Kauffman. "Lee District (and Fairfax County) have benefited immensely from Cal's dedicated service, creativity, and patience in handling complex and sometimes volatile neighborhood issues," Kauffman noted in his nomination letter.
Wagner began working for the county in 1989 when he joined the Park Authority as a landscape architect. Since 1994, he has been the county community association liaison. He is also the coordinator of Fairfax County's award-winning cable television program "Your Community, Your Call."
Rodney Lusk received the Citizenship Award, and he served as the master of ceremonies for this LDACO 52nd Annual Holiday Banquet. Lusk has been the Lee District Planning Commissioner since January 2004, when Kauffman appointed him.
In presenting Lusk with the award, Kauffman noted, "This purely volunteer job takes more hours a week than many paid ones. Rodney's work on the Planning Commission is extremely important to Lee District residents."
In addition to handling land-use applications, Lusk is also chairman of the Commission's Capital Improvement Program Committee, chairman of the Redevelopment and Housing Committee, and a member of the Parks and Environment committees. He also serves as an alternate on three other committees.
Lusk is the immediate past chairman of Leadership Fairfax, Inc. In 2003, he was the recipient of the Torch Bearer Award presented by that organization.
Participating in the award presentations, in addition to Kauffman and Connolly, were Paul Gagnon, chair, LDACO; Joe Johnson, former LDACO chair; and Jack Kelso, former Lee District resident who flew in from his present home in Las Vegas, Nev., to participate in this tribute to Kauffman's years of public service.