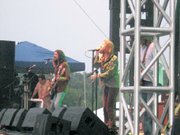 Following America Online's withdrawal from the Loudoun Summer Music Fest, members of the Loudoun Foundation, which organizes the event, are hoping to find sponsorship in the next month. Since the season-long concert series started four summers ago, America Online (AOL) has been its primary sponsor, giving between $65,000 and $80,000 each year.
"We're making a broad appeal to the community for someone to ride in on a white horse and save the music festival," said Loudoun Foundation board member Tom Simmons. He said the series, which offers cheap ticket prices, often for national acts, had become an institution in Loudoun, bringing about 60,000 people to its stage at the Belmont Country Club over the course of last summer. Simmons said the foundation would normally get its festival funding in the first week of January.
"If January passes and we don't have funding, that's not going to be good," said Loudoun Foundation president Tracey Parent, noting that the organization would be unable to line up contracts or make deposits on bands. She said the foundation was engaging in talks with local businesses.
IN THE FALL, AOL announced the relocation of its headquarters from Ashburn to New York City and made 750 layoffs in the area. However, AOL spokeswoman Anne Bentley said the company remains focused on Loudoun County, where it still has thousands of employees. She said the changes were the results of the company's shift of focus from subscription-based to advertising-based business.
Bentley said AOL continues to make significant donations to charities in Northern Virginia, but that funding for the festival ate up a large chunk of the company's budget for community involvement. "We've got significant operations elsewhere and we're just looking to spread our pocketbooks a little farther," she said, adding that AOL has major centers in London, England and Bangalore, India.
Past Music Fest acts include Styx, Ted Nugent, Joan Jett, Pat Benatar, INXS and the Black Crowes. Parent said she could not yet say much about plans for the coming summer but revealed that the foundation hoped to bring back Lynyrd Skynyrd and present bigger bands than last year's series did, "including one of the Beatles."
THE LOUDOUN FOUNDATION is a nonprofit agency and has always pulled a few other nonprofits into the festival, to give them publicity and, if any money is left over, some funding. However, Parent said the concert series' primary focus is not to make money for anyone but to provide good music while keeping concerts "nice and cheap, so it's the cost, basically, of a movie."
She said she founded the organization "to create cool music programs for kids." Families are encouraged to bring their children to the music festival and the Loudoun Foundation organizes a battle of the bands twice a year, offers music mentoring in schools and cooperates with the Loudoun Youth Initiative on its annual Youth Fest. This year's Youth Fest is to be coordinated with the Summer Music Fest, so that participants can use the space and equipment that is already set up. If the concert series is cancelled, Youth Fest will go on. "It'll just cost them a lot more," said Parent.
However, she said, "I don't think the businesses in the community would let that happen." She promised, "We will not go down without a fight."