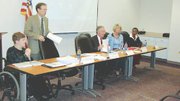 In a meeting with residents petitioning for a town referendum in Reston, the community's elected officials expressed concern that a town model of governance would not serve Reston as well as it is served now. State Del. Ken Plum (D-36) said a part of the problem is that town proponents are trying to "stuff" Reston into a form of governance established long ago for a different sort of a community.
"It's something made for a couple thousand people," said Plum at the Tuesday night, Oct. 30, meeting at the Greater Reston Chamber of Commerce.
"A town in Virginia is created for a small number of people with limited services," said Fairfax County Supervisor Catherine Hudgins (D-Hunter Mill).
Marion Stillson, vice president of the Reston Citizens Association (RCA) — the civic organization leading the referendum drive — said that perhaps there was room to create a flexible town model of governance. "Perhaps Reston can lead the way," she said, evoking the community's progressive reputation.
"We don't want to be a Herndon, we don't want to be a Vienna. We want to be a little more than we are now, let's work it out," said RCA president Mike Corrigan.
RCA DIRECTOR Colin Mills joined Corrigan and Stillson in presenting the current town proposal to Plum, Hudgins and state Sen. Janet Howell (D-32). Prior to the presentation Jane Wong handed the elected officials the 3,700 petitions Reston residents signed asking for a town referendum. The General Assembly would have to approve any referendum, and RCA is leading the effort to get Plum and Howell to introduce such a measure in Richmond. Plum said the RCA should have collected signatures for a town charter proposal, not for a referendum. A referendum is necessary for approval of any change of governance. "To have a referendum you need to have a charter. The details of the charter need to be worked out," said Plum.
It was agreed at the meeting that land use decisions are the most pressing part of the reason why some residents feel a town government within Fairfax County might serve Reston better than just the county. The idea is that a government closer to the residents may be more responsive and attentive to residents' needs than the county supervisors in Fairfax are. However, Plum argued that the current RCA proposal for a town would not grant Restonians more control, and would actually give them less control than they have now. "What we want to do is control our destiny. I don't believe your proposed charter does that," said Plum. "I don't want to see you propose a charter that will be a step back."
Corrigan reiterated that Reston residents needed to have more influence in land use decisions in their communities. He pointed to the county board March decision to amend population factors in the Planned Residential Community ordinance, which governs Reston's residential neighborhoods. The decision allowed more dwelling units to be built in Reston under the community's population cap. RCA and representatives of Reston Association (RA) and Association of Reston Clusters and Homeowners (ARCH) asked the board to conduct a comprehensive review of the ordinance before they change the factors. "Fairfax County unilaterally changed that ordinance," said Corrigan.
Hudgins responded that the county did not act unilaterally, that 80 percent of the amendment to the ordinance followed community's recommendations. The rest of it, she said, "was a technical piece."
Corrigan also pointed that when RCA presented the town concept to the county board in 2005, the supervisors asked questions about the proposal. He said RCA responded to all of those questions, and never received a single comment back from any of the supervisors. "We got zero comments from supervisors on answers to their questions," said Corrigan.
RCA MIGHT NEED RA and ARCH support again, if the referendum drive is to succeed. Support from other Reston organizations, Reston Town Center Association (RTCA) and Reston Community Center (RCC) for example, could also be necessary to RCA's effort. Howell said there are great legislative hurdles to clear in Richmond if Reston is to become a town. "The only possibility of success is having a unified Reston," said Howell. "You need to understand the scope of the problem and the absolute need for those organizations to stand together."
The RCA may run into some trouble getting the other organizations to join in the effort. Howell and Plum have sent letters to a number of Reston organizations asking their opinion of the current town effort. According to Plum, the RTCA board of directors has already responded that it is not interested in this town proposal.
Getting RA's support may prove to be the most important of the agreements from other organizations. Plum noted that much of RCA's budget proposal depends on RA assets — parks and other open space — being handed over to the town. He wants to know the RA is willing to make that transfer before he introduces any request for a town in Richmond. Any such transfer would require RA to hold its own referendum, asking the homeowners whether they would agree to the transfer. Not having RA's conformance, said Plum, "takes the heart out of the [proposed] budget." Hudgins said the town proposal is predicated on uncertainty.
HOWEVER, according to Corrigan, RA has indicated it would not spend money on its own referendum until a town referendum became more realistic. "They won't spend a buck until you take leadership," Corrigan told the elected officials. He said RA homeowners have many reasons to approve the current proposal. He presented financial scenarios as to how RA homeowners would earn financial gains in the proposed town. "People have assets. If they want to transfer what they own to where it serves them better, I don't see anything wrong with that," said Corrigan. Plum said it would not be wise to present the current proposal to the General Assembly without RA homeowners' prior approval. He said the Virginia General Assembly prides itself on protecting property rights. "It would not vote to override a contractual agreement between owners and associations without prior agreement," said Plum.
The other 138 legislators in Richmond, said Plum, are not acquainted with Reston's organizations and some residents' concerns for local governance. "We really got to work this out among ourselves before we send this down to Richmond," said Plum. "I understand there are concerns in land use, planning and zoning, and I believe you are taking a step back and it is not your intent to do that." Howell said the letter she and Plum sent to other Reston organizations asked them to come on board with the proposal by Dec. 15.