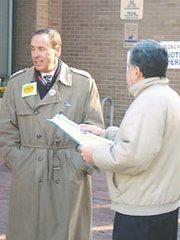 Incumbent Stu Gibson was elected to represent Hunter Mill District on the Fairfax County School Board for the next four years, marking his fourth term on the board. Gibson won 13,170 votes, or 61 percent of the vote, on Tuesday, Nov. 6, beating challenger Christine Arakelian, who won 8,390 votes, or 38.9 percent of the vote. Some 21,594 people voted in this race, marking a 28.6 voter turnout in the district.
Much of the conversation leading up to the Nov. 6 vote concentrated on the upcoming Western County High School Boundary Study. High schools in Hunter Mill and surrounding districts will be affected if the School Board decides to take action and shift students from one school to another in order to balance out student enrollment.
Gibson said on Tuesday morning that it was a tradition of his to visit each of the 23 polling places in the district on election day. "I feel pretty good. I started the day in precincts I didn't think would do well," he said. Gibson added that the endorsements he has received have been helpful to his campaign, but that his volunteers are responsible for any success he might gain in seeking his fourth term on the School Board.
One of the most important things this year's campaign has reminded him, said Gibson, is that tough decisions have to be made when representing people. "When you serve in this office you understand that you'll make decisions that are not going to please everyone," said Gibson. One of the first things he promised to do if elected is to help make it a smooth transition for the new board members.
Arakelian said on late Tuesday afternoon that she also felt good about what she saw on election day. "I feel fabulous," she said, adding that she had received reports that voter turnout was very high. She said that is usually a bad sign for incumbents. Arakelian said that one of the most important lessons learned in this campaign is to speak from the heart on important issues. She was thrilled that as a "political neophyte" who started five months ago, she was competing in an election. If elected, Arakelian promised to talk with her constituents. "I want to hear from the community at South Lakes," she said, adding that people who may be affected by the boundary study are afraid their voices would not be heard. While she feels she has accomplished much in the race, Arakelian said her biggest accomplishment was that she brought some important issues to light in Hunter Mill District. "People understand and talk about the issues," she said.