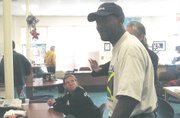 It was the middle of February and temperatures were hovering in the teens, and Tammy Downing and her husband found themselves tossed out in the cold, literally.
The Downings had moved just a few days earlier from Ohio to live with a friend in Herndon and help her through a divorce. Less than two weeks after the Downings arrived, the friend's recently estranged husband returned home and told Downing and her husband to leave the house.
Having left behind their lives completely in Ohio, the two could only think of one thing: getting out of the cold.
"We didn't have any money and we heard about a hypothermia center over in Fairfax," Downing said.
The place they arrived to was The Lamb Center, and the couple quickly saw that it was more than just a homeless shelter. A full-service homeless help center complete with employment resources, spiritual guidance and educational assistance, The Lamb Center applied its goal of helping those in need of help towards self sufficiency to Downing and her husband.
"It was a place where you could hear about work, my husband found some work in two days working on trucks," Downing said. Now, she said, he works full time installing cabinets in homes.
The couple now lives in a hotel, owns a car and are on a path towards total self-sufficiency, Downing said.
"Things are starting to look up for us," she said.
THE LAMB CENTER celebrated 15 years and successful cases like that of Downing and her husband at an anniversary dinner at The Church of the Apostles in Fairfax on Nov. 2.
A resource for the area's homeless and needy, The Lamb Center started as an initiative of Truro Church in Fairfax in 1992. Its mission was not just to provide temporary help but also offer permanent solutions to its visitors, said Bob Wyatt, executive director of The Lamb Center and an Anglican pastor.
What originally started as a few volunteers above a pawn shop on Main Street in Fairfax has since grown into a stand-alone center on Old Lee Highway that helps approximately 70 people a year out of homelessness, according to Wyatt. Its approximately $400,000 annual budget is now supported by a network of more than 50 regional churches, according to Truro church and Lamb Center officials.
"We look for the people who want to truthfully make a change in their lives," he said. "Most of these people, they want to have a normal life … but they just don't know how, and that's what we help with."
"When you give to the poor, you're blessed, you've helped, but if you really want to help the poor, that's much harder work."
To achieve those goals under such challenging conditions, The Lamb Center provides a combination of services to those looking to better their lives, Wyatt said.
As temporary-needs resources, the center provides laundry service, showers and food. To help those looking to advance their lives, The Lamb Center offers lockers, mailboxes, phone service and employment resource banks. Other services, such as alcohol abuse clinics, health screenings and Bible study groups are also regular features at the center.
"The idea is to look at this as a step by step process," Wyatt said. "We start working with people who want to make those steps and help them one step at a time to reach those goals."
The Lamb Center remains an integral service to the entire county, in that it provides a safety net for the region's homeless population, said David Case, interim director for community outreach with Truro Church. Annually, the church remains one of The Lamb Center's largest benefactors, last year providing $60,000.
"There are homeless people and poor people in Fairfax who fall through the cracks," Case said. "The Lamb Center has given the chronically unemployed a chance to get back their lives and their self-sufficiency in ways that they might not have been able to do on their own."
BUT AS TIME has passed and the center has gained in popularity, the need for a new location so that more of the county's homeless can be shown new paths has emerged as paramount to the center's organizers, Wyatt said. But finding an ideal location for a center that serves the homeless and poor, particularly in the City of Fairfax, has been difficult, he added.
"When people hear that we are an organization that works with the homeless and we are moving close to their homes, they tend to feel frightened," he said. "So the key for us is trying to better explain to people that we are here to help these people out of homelessness."
The center has always worked with local authorities to actively prevent crime and discourage the use of alcohol and would continue at a new site, Wyatt added.
"Extensive" searches for a new site within city limits have not been easy and have come up fruitless, said Fairfax City council member Scott Silverthorne, who added that the center may need to relocate outside of city limits. Last spring, an attempt to move the center into Fairfax County failed.
"We remain convinced that they have outgrown their current site," he said. "When it comes to helping people get back on their feet, what they do is a very noble cause … and we as a city need to do everything in our power to help them meet their needs."
THOSE NEEDS are about providing necessary bridges towards improving lives, said Roger Brown, who first came to The Lamb Center two years ago, and has since found full-time work and is living on his own in Annandale. Brown still returns to the center regularly as a volunteer.
"There is really nothing like this place anywhere else," Brown said. "You can't find a place that will help you to take care of yourself, to find work, to help you on a personal level."
For Brown and others like him over the course of the last 15 years, The Lamb Center has provided an invaluable service: helping him to reclaim his life.
"If it weren't for this place, I don't know what I would have done," he said. "It's like an oasis in the desert … a place where you can go to get to a better life."
More like this story