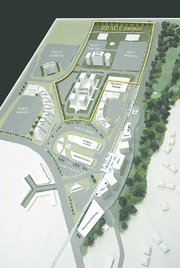 Ever hear of Blooms Grove Station? Didn't think so. Brace yourselves Springfield, Alexandria, Mount Vernon and Lee districts, Blooms Grove Station is about to become a major thorn under your saddles.
American Building Corporation (ABC), assemblers of a 115-acre site in Manassas Park to be known as Blooms Grove Station, wants to become the total — operative word: "total"— home of Washington Headquarters Services (WHS). That is the 6,300-personnel complement element of the Base Realignment and Closure Report (BRAC) segment scheduled for Fort Belvoir by Sept. 15, 2011.
ABC went public with its proposal at 9 a.m. on Nov. 5, when it submitted a detailed, comprehensive plan to the U.S. Army Corps of Engineers, Baltimore Office, and the City of Manassas Park. It now poses a formidable challenge to both the use of the General Service Administration (GSA) warehouse site in Springfield and the Victory Center in Alexandria as potential the future homes of WHS.
"We designed this site to have the least traffic impact and the greatest livability of all the proposed sites in the BRAC realignment. We are virtually taking 20,000 cars out of rush hour traffic," said David Willmore, principal of ABC.
"ABC, in a proposed partnership with the City of Manassas Park, submitted a proposal to the Corps of Engineers to provide the U.S. Department of Defense (DOD) with a 45-acre mass transit oriented office campus. The proposal offers [a] new 115-acre community, to be known as Blooms Grove Station, and includes a secure, turn-key DOD campus," their news release of Nov. 5 stated.
This proposal will allow all WHS personnel to be consolidated in one location. ABC has also agreed to have DOD take ownership of the BRAC portion of the site, thereby fulfilling the requirement in the BRAC language that all transferring agencies "will be located at Fort Belvoir."
That can also be accomplished at the GSA site. But, as noted by District Supervisor Dana Kauffman, that can not happen "without requiring major highway improvements." Otherwise the Springfield GSA site can only accommodate approximately 3,000 of the 6,300 WHS personnel. The stumbling block to the Victory Center on Eisenhower Avenue in Alexandria is that those owners are focusing on tenants, not buyers. Thus, both present the Department of the Army and DOD with problems.
SINCE THE BRAC announcement in 2005, the 800-pound gorilla in the room during all discussions, community meetings, Board of Advisor sessions and scoping sessions has been how this massive transfer of an estimated 19,300 personnel would impact the already overtaxed Northern Virginia traffic and mass transit capabilities. Blooms Grove Station offers a tranquilizer for that beast.
Running along one side of the site is the Virginia Railway Express line with a station virtually at the site. Circumventing the entire site is a proposed monorail to transport workers and residents to all locations within the complex.
"This use of transit systems will create unprecedented connectivity throughout the community, making all of Blooms Grove Station 'walkable' and significantly reducing vehicle trips. The plan proposes a transformation of the Manassas Line of VRE into a two-way metro-like system allowing workers an easy reverse commute," said Willmore.
Adding to this mass transit configuration, it is planned that VRE and a bus loop will run throughout the day to provide smooth transit service to The Pentagon and other locations, according to Willmore. "This is our way to have a no traffic impact on Fairfax County," he said.
But the WHS BRAC site is only one element of Blooms Grove Station. The other 70 acres will be devoted to creating a new Manassas Park town center with up to 20 restaurants, condominiums for up to 6,000 residents, a 600-room hotel with a 70,000 square foot conference center, 1.5 million square feet of office/retail space, a new city hall and a cultural center.
"This offers more of a live, work, play site than either the GSA or Victory Center sites," said Bruce D. McLeod, senior vice president for Commonwealth Consultants, working with ABC in selling Blooms Grove Station to DOD.
As for the 45-acre WHS portion, it is planned for nine office buildings with a total square footage of 1.5 to 1.7 million square feet; a one-story, ground-level enclosed parking facility; two large surface parking lots; and dual helipads. There will be a separate truck delivery facility and three separate entrances to secure the WHS area and bring it in compliance with BRAC "Force Protection" requirements.
Located 14 miles from Fort Belvoir and 21 miles from The Pentagon, the site is readily accessible from Route 28, the Centrerville Exit of Route 66, Route 234 from I-95 and the Prince William Parkway. "We almost have an equilateral triangle between Fort Belvoir, The Pentagon, and the Manassas Park site," Willmore said.
On top of everything else, ABC claims that Blooms Grove Station "will redefine the use of environmental technologies to become Virginia's first community to receive a Platinum LEED's (Leadership in Energy and Environmental Design) designation." Some of the state-of-the-art green technologies to be used in the project include geothermal heating and cooling, underground water basins to recycle soft rain water, LED lighting and photo voltaic solar cells, according to ABC.
"This will also enable the Army to operate the facility for less and serve the overall community better," Willmore said.
BUT THERE IS another hurdle. While presenting the proposal to the Corps of Engineers, ABC also presented a proposal to officially establish a public/private partnership between themselves and the City of Manassas Park to that city's governing body. They must now advertise the proposal for 45 days.
"If the partnership does not work, this proposal won't work," said Willmore. "It depends on the city's approval."
The site is presently zoned I-1 for industrial use which also permits offices. However, there would have to be zoning changes to permit residential use as well as to accommodate the hotel/conference center, cultural center and municipal uses, according to Willmore and McLeod.
"The proposal for the public/private partnership will now be advertised for public view until Dec. 21. If we don't get any other proposals for the site I will advise City Council to move very quickly because I know the Army has a tight time frame," said Manassas Park City Attorney Dean Crowhurst.
"After that, the City will need a public hearing to authorize staff to move ahead with making an offer to acquire the necessary parcels. The City now owns an estimated 25 acres of the overall site," Crowhurst said.
"If negotiations are not successful with the present owners of the parcels, we can move forward with what is known as a 'Quick Take' under eminent domain. However, in order for that to be effective we first have to get appraisals, place monies in escrow, and then the court decides the fair market value," Crowhurst said.
Donald Carr, director of public affairs for Fort Belvoir, reiterated that any site where the 6,200 jobs go "must be [declared] Fort Belvoir real estate to comply with BRAC law."
Although the full 6,200 WHS compliment could be located at Fort Belvoir's Engineering Proving Grounds (EPG) site, "It was found to be impractical to locate the jobs at EPG, principally because the Army agreed to cap the jobs going there at 8,500," Carr said.
"The Army will now enter an evaluation and selection process expected to take between 30 and 60 days. Any site selected in the process will undergo environmental evaluation along with the Franconia GSA site," Carr stated.
He made no reference to the Victory Center.