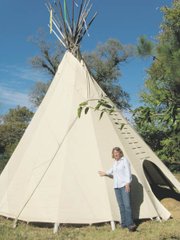 The 27-foot-wide tepee in the Howard Gardner School's backyard will soon be replaced by a wigwam-like, round, two-story modular building. Having a Cherokee help the students and faculty build the tepee is one example of the progressive, college-oriented school's hands-on approach to learning, and the round modular will play into another of the school's priorities: By minimizing the surface-to-volume ratio, the design conserves energy to make it environmentally friendly.
Until the purchase of a house on about an acre and a half of land on Franconia Road last year, the Howard Gardner School — named for the psychologist who originated the idea of multiple intelligences — operated on a property in the city of Alexandria. Now, most of the classes are held in rooms leased from the Rose Hill Baptist Church next door, while several meet in the house on the Howard Gardner property, and a few are occasionally held in the tepee. Environmental science classes convene in a "clubhouse" near Pikes Branch, which is the yard's rearward boundary.
There, said cofounder Katherine Keith, the students were preparing to construct a pond and wetland, which would clean the runoff before it enters the creek. The project is part of the storm water management plan that was submitted to get a permit for the modular building, and it is expected to be finished before building construction begins. "That way, it can serve its purpose even during construction," said Keith.
In early September, the Lee District Land Use Committee voted unanimously to grant the school a special exception for the building.
Keith said the school works an environmental focus into much of its curriculum because "it's important, and it lends itself to so many rich experiences." This focus was the reason the school moved out of the city, she said, noting that the new property is rich in wildlife, including deer, foxes and hawks.
Less wild is Norman Clyde Humphrey, the potbelly pig who grunted for attention in his pen while the students and teachers ate lunch at nearby picnic tables. "We spend as much time as we can outside," said Keith.
She founded the school more than three years ago with Emily Pavot. The two women had operated a tutoring service in Old Town Alexandria, Pavot explained as she waited for all of the students to arrive for her English and mythology class. "We saw so many bright kids in public and private school who weren't doing well," she said. "We wanted to create a place that was more nurturing."
THE CLASSES ARE modeled after college courses, she said, with students working on three or four major projects for each class over the course of a semester, without the daily busywork. One difference from the average college courses is the size of the classes. With a total of 36 students in all four grades combined, the largest classes have 10 students. Most classes mix grade levels.
Across the hall from Pavot's room in the church, a world religions class that had recently read Hermann Hesse's "Siddhartha" held an open discussion about the Buddhist interpretation of suffering. In contrast to public schools, two of the students wore hats. A girl clutched a stuffed dog. One student sipped on a cup of coffee. Keith noted that classes designed for juniors and seniors, such as this one, are taught at a freshman college level.
Two days a week, the entire day is devoted to hands-on learning. Every Tuesday, said Keith, the school takes a field trip. They had recently attended the Solar Decathlon in Washington, D.C. Each Friday, students work at their respective internships. Until they find an internship, students spend Friday doing community service.
The Howard Gardner School is a tuition-based nonprofit organization, and about 25 percent of the students receive scholarships to the school, said Keith. "So we haven't had to turn anybody away because of money, so far." She said scholarship money comes from family donations and fundraisers.
Sophomore Julia Dickerson is in her second year at the school and said she intends to stay until graduation. "I have a great time here," she said, noting that the freedoms the school offers allow students to learn according to their interests and also prompts them to discipline themselves. She added that the small number of students allows everyone to get to know each other.
Having just finished geometry and ancient civilization classes, Dickerson would be on her way to geology and film history after lunch. The school started using block scheduling this year.
"I started going here because I was really not having a lot of luck in public schools," said sophomore Cal Slater. He said his family had been concerned about the cost of tuition, but Keith had told him that if he continued to work on the film he had started she would cut the cost by one-fourth. He said he appreciated the flexible curriculum and the focus on getting students into college. "And the pig is cute."
JULIA MCINTOSH, A SENIOR, said the school might have saved her education. She said she had learned as much in her half-year at Howard Gardner as she had in all her public school career, noting that she had come to understand her own learning style. "I always felt I wasn't really good enough and I was kind of stupid, but now I know I'm capable of getting good grades and doing well," she said.
Andrew Dade, in his third year at the school, noted that students there learn life skills, such as balancing a checkbook, and are allowed the freedom to wear what they want, go to the bathroom without asking and speak their minds. "But it's not like you take advantage of the teachers, because there's kind of a mutual understanding."
Art teacher Shanna Carvell said she had been a teacher's assistant in public schools and appreciated the students she worked with at Howard Gardner. "These guys actually ask questions," she said. She added that she also enjoyed spending nice days outdoors, not having to wear shoes and not having to teach to a test.
"The teachers have a lot of input," said Alex Castle, who teaches history, science and technology, noting that teachers collaborate to plan field trips. "It creates a lot of ownership for the faculty." He said the students also had a say in what electives would be taught.
Shelley Witiak, one of the school's founding teachers, said the small number of students enabled teachers to individualize their lessons, while the experiential learning kept school interesting for teachers and students alike. "Some days, I feel like I'm learning more than I'm teaching," she said.
A temporary classroom will be moved onto the property shortly, and classes will move out of the church. Keith said the wetland, pond, grading and additional parking would be completed before winter, while the timetable for the new modular remains uncertain. She said the school had raised more than $200,000 for the building but would need to double that before the project would be affordable.